We decided to keep dinner close by at the Flying Fish at Barefoot Landing. We had read very good reviews and wanted to give it a try. We had a 30 minute wait. Of course any restaurant at Broadway or Barefoot will have a wait this time of evening so I wasn't surprised. This restaurant is very big and it was packed. I have learned over the years just because a restaurant has tons of patrons doesn't mean it is good food..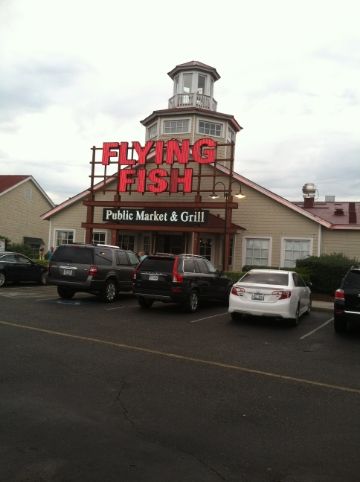 We were seated on the upper level with a beautiful view of Barefoot resort. We were just in time for the sunset which made the view that much sweeter. There were so many boats and activities on the water. What a fun place for dinner.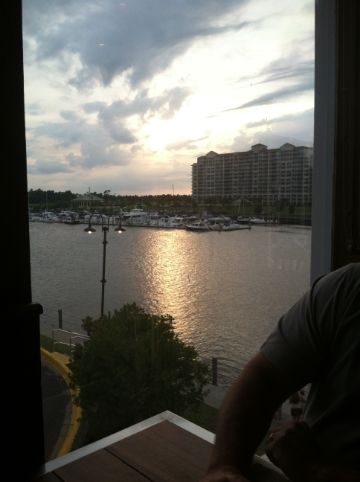 The restaurant provided a complimentary Mahi Mahi spread that was out of this world. I am not a big fish eater and this was not too fishy. This might very well have been one of my favorite foods for the week. I have to admit I shared with Doug and my mom, but wanted the entire sample to myself.
We ordered hushpuppies and they were good, however not the best I have ever eaten. I would try them again though.
We all three got a salad and I have to say these almost ranked up there with Carolina Roadhouse. Very Good!
My mom and I ordered the crab cakes to share. The portions were huge. There is no way I could have eaten a serving myself. The crab cakes were one of the items that the hostess and our waiter suggested. I was pleased. They were quiet tasty and I would order them again.
Doug got some type of seafood platter and enjoyed his meal.
We would return to Flying Fish. I thought it was very good.