Tupelo Honey Cafe
- The Market Common, 3042 Howard Ave, Myrtle Beach, SC 29577 -
https://tupelohoneycafe.com/location/myrtle-beach/
This restaurant used to be one of our favorite places. Perhaps we came on a bad night? Or maybe we got the wrong server.
The restaurant wasn't crowded. It took several minutes for our server to acknowledge us. We ordered water and I also ordered a Frozen Tupelo Crush Orange Whip. We asked for silverware because the table didn't have any. It took quite a while for our drinks to come. My Tupelo Crush was delicious! It was also happy hour, so it was pretty cheap.
We ordered the Sweet and 'Twangy Chips for an appetizer. Our appetizer never came. We brought it to our servers attention at the end of the meal (so it wouldn't be on the check) and she told us she wrote it down but forgot to give the kitchen our order. She wrote our entrees down on the same piece of paper, so I don't know how the kitchen got that order, but not the appetizer.
Our server forgot about the complimentary biscuits and jam until we asked about it. We asked her again for silverware and plates. A different server brought out the biscuits and jam. We asked that server for silverware and plates and got them immediately. I only ate a small bite of my biscuit and placed it on a plate to the side to save for breakfast the next morning. Unfortunately, our server must have picked up that plate by mistake as she breezed by and threw it out. I didn't even notice until I went to ask for a small box for it and saw it wasn't there.
I ordered the Carolina Chicken Sandwich (marinated chicken breast with SC pecan kale pesto, Havarti cheese, tomato, avocado, and lettuce). My meal was just okay. It wasn't bad, but it was nothing special. It was definitely a sandwich I could have made at home. I thought it would come out on a nice roll or something, but it was on toasted white bread. There was one, thin little sliver of avocado on my sandwich. It was disappointing. The serving of macaroni and cheese was barely warm. My mother ordered the Southern Fried Chicken BLT (buttermilk fried chicken, apple cider bacon, dijonnaise, lettuce, and tomato). Her sandwich looked great. Her sandwich looked like what I wanted mine to look like! Her chicken was good, but the bacon wasn't cooked all the way. Her macaroni was also barely warm and she bit into several uncooked pieces of macaroni. My father initially ordered the fish and chips. As soon as he said "fish and chips," our server wrinkled up her face and said "Yeah, so, I probably should have told you in the beginning what we have and don't have. We're out of the fish and chips and the pork chops." Okay.... He ordered the Calabash Shrimp Basket (milk-battered and fried American shrimp with jalapeno hush puppies, fresh fries, slaw, and lemon cherry pepper dipping sauce). The jalapeno hush puppies and the fries were delicious. My dad really enjoyed the shrimp. They were decent sized and the breading wasn't greasy. He was happy with his meal.
If you go on Tupelo Honey's website, you can get a free pint glass with a $10 purchase if you give them your name and email. I signed up last year and was unable to get a glass because they ran out. I signed up again this year and mentioned it to the server. She had to check with someone at the front to get the code and told me she'd be right back. She forgot about it eventually. I had to remind her three more times about the glass before I finally got it. The glass is beautiful (it's the same style glass you drink out of at the restaurant) and is quite heavy.
This meal was a disappointing one. The service was fantastic from the other servers, not so much from our main one. Also, it seems like the menu has changed quite a bit since we've been in last. Last year, we ordered the NC Country Ham Wontons appetizer, Jumbo Lump Crab Cake appetizer, Nutty Fried Chicken, and the Hickory Nut Gap Farm Beef and Bacon Meatloaf. All were delicious. Not one of those food items were on the menu this year. The macaroni and cheese which we ordered last year was a lot different from what I remember, and the portions this time were a lot smaller. It will probably be a very long time before we think of coming back here.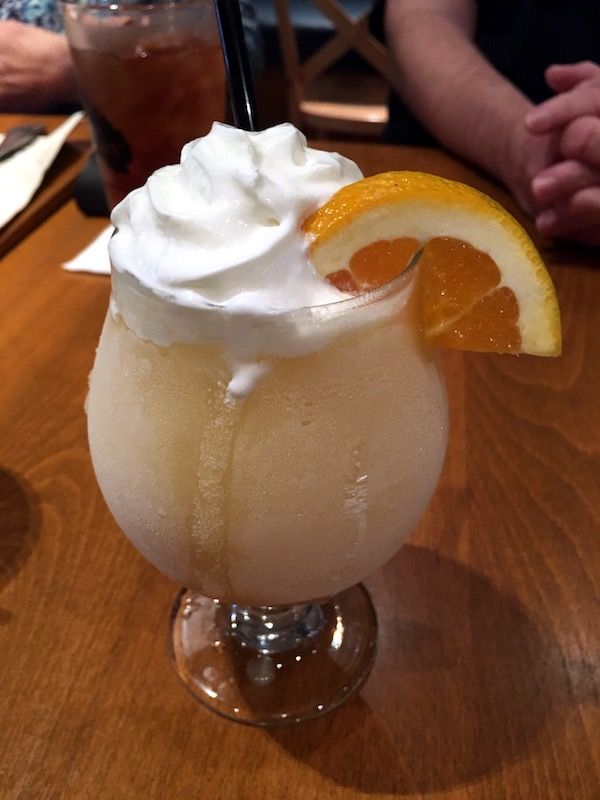 Frozen Tupelo Crush Orange Whip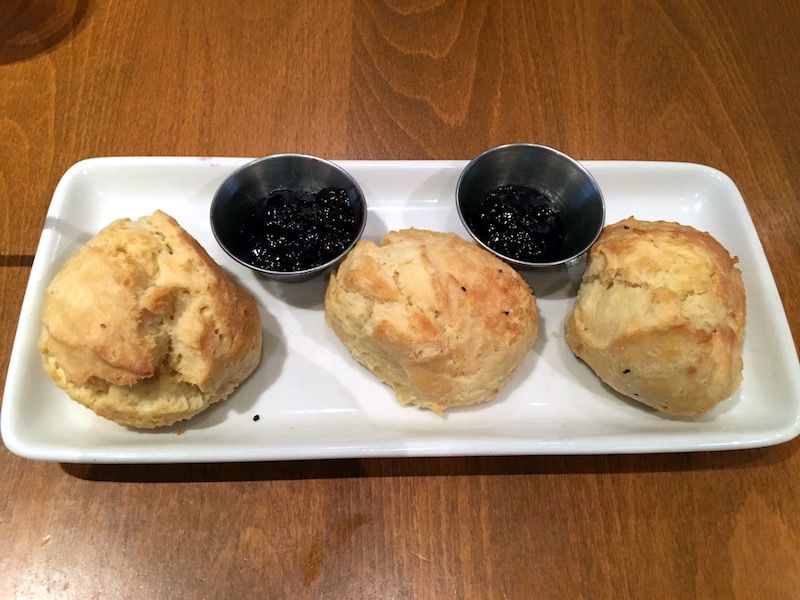 Complimentary biscuits and jam
Carolina Chicken Sandwich with macaroni and cheese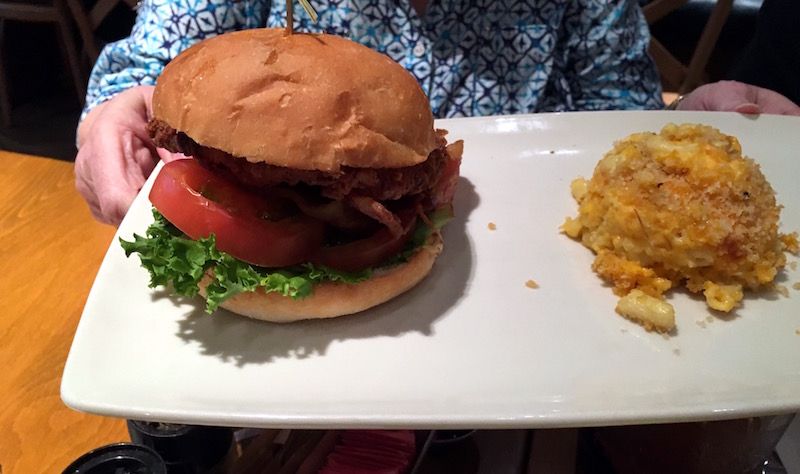 Southern Fried Chicken BLT with macaroni and cheese
Calabash Shrimp Basket with fries