Thursday September 10th
My dad and I had plans to play mini-golf this morning. We wanted to go early before it got too hot. We were determined to play at least one round of golf before we left! We headed on down to Mayday Golf. You can see photos I took of the course
HERE
. We had the course to ourselves. My family loves playing this course. There are two different courses. Rescue Falls has no steps and Mayday Mountain has steps. The holes on either course aren't too challenging, but you still have fun playing nonetheless. The foliage is beautiful and the course is always well maintained. To make a long story short, my dad won. I went easy on him! By the time we finished, it was started to get hot outside. We headed on up to Walmart to get a new vacuum cleaner for the condo, and went to Food Lion to get a case of water. We got back to the condo just in time for lunch.
Dinner tonight was at Flying Fish. You can read my review
HERE
.
After dinner, my mom wanted to stop by Belk to look for some shoes. After that, we stopped at the Dollar Store for some scissors and of course I had to take a trip down the candy aisle! We headed home afterwards and hit the hay.

Friday September 11th
Everyone woke up early this morning and had breakfast out on the balcony. We went to the beach a little after 9am. My mom and I sat under one umbrella and my dad had the other to himself. I swear, the rental chairs have radar on them because as soon as you sit down, here come the lifeguards in their jeep! We rented the umbrellas for today and the next day. About 20 minutes later a family with two babies and a loud radio sit nearly on top of us. Out of all of the empty spaces on the beach, they have to sit so close.
My parents went for a walk up the beach while I stayed back and read. The beach much have been so relaxing because I kept dozing off and dropped my book a couple of times in the sand. Once my parents got back, my dad and I walked to the water and dipped our toes in for a bit. We were out there for a couple of hours. It was breezy and cool. After 12 it started to get more humid, but there was still a breeze. We went back to the condo a little before 1pm for a light lunch. Dad made some tuna sandwiches to grub on.
Here are some photos from the beach this morning: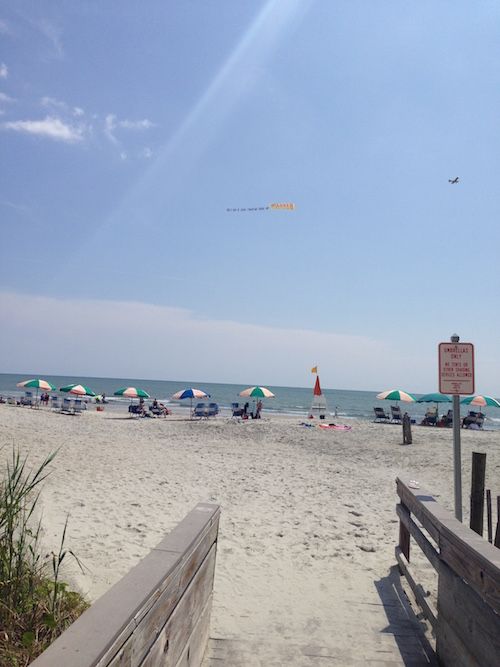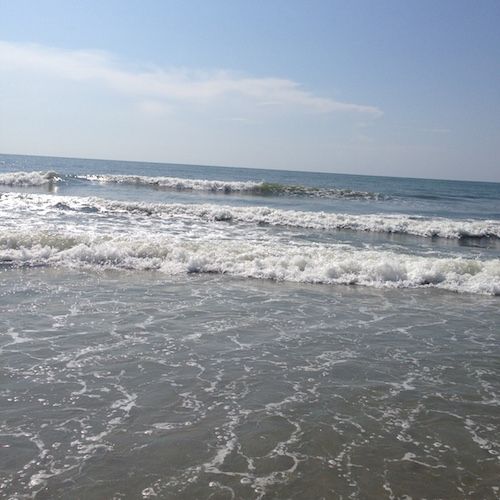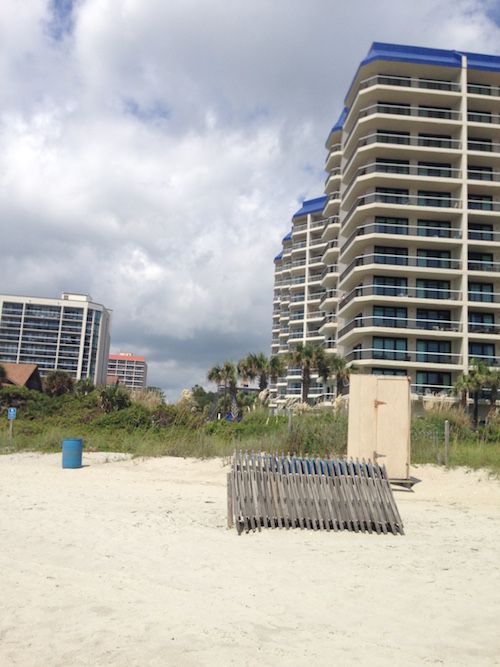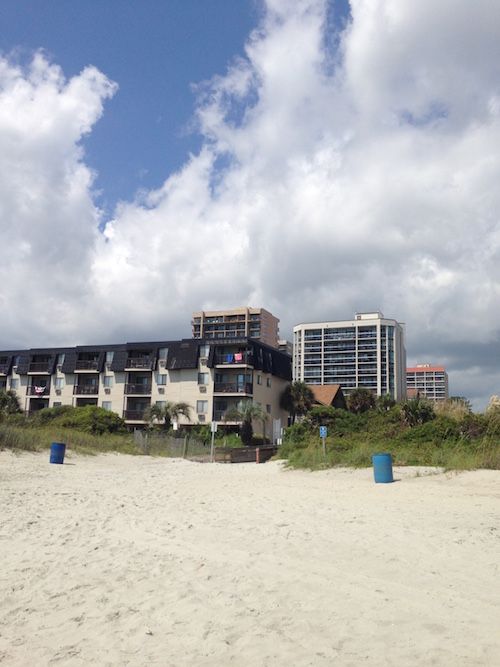 My parents and their friends who live in the condo next door went out to Joe's Bar and Grill for dinner. Every year we come down to MB, my parents and their friends pick one night where they go out to Joe's and catch up with each other. For years I wasn't "allowed" because it was a "grown-ups dinner" but over the past several years my parents and their friends have always invited me to go with them. I stay back anyway because all they'd talk about is the condo association, politics, work woes, and that's just no fun for me
My dad offered to get me carryout for dinner and I chose a new restaurant called Crave. You can read my review
HERE
.
My parents came home a couple of hours later from their outing with friends. They always enjoy their meal at Joe's. The said the only damper on the evening was that the restaurant was too hot.
We definitely went to bed with our tummies full tonight!
Saturday September 12th
Rainy morning! And it's our last full day in MB.
My dad and I went to the beach while my mom started to pack up some things. The beach was very chilly and windy and it rained on and off the whole time we were down there. Despite that, there were quite a few people on the beach. I read for a bit. It started to pour so we headed on back to the condo.
Our lunch was everything we had left in the fridge from the past couple of days. It wasn't much, which was fine because we planned on having a big dinner. About an hour or so after, the realtor my dad chose to sell the condo came over with contracts for my parents to sign. She stayed for almost an hour. I stayed in my room watching Law & Order.
Dinner tonight was at one of our favorite restaurants: Villa Romana. You can read my review
HERE
.
After our scrumptious dinner, we went to the dollar store across the street for a couple of things. I had a coupon for Bath and Body Works and decided to go to the one in Market Commons. The store wasn't crowded when we arrived. I got the items I wanted. The associate even told me of another coupon I can use on from a website, which I appreciated. Our next stop was Krispy Kreme. I saw that "Hot & Ready" sign and I couldn't resist! We waited about 10 minutes in the drive through line before my dad pulled out and parked in the lot. As soon as he went into the building, the line starts moving. We brought out hot doughnuts back to the condo and enjoyed our last treat of the summer.
Sunday September 13th
Time to go home. I swear, time goes by so quickly when you're on vacation. We all packed up the rest of our stuff and headed on out about 8:30am. We were in no rush to get home, so it was nice having those couple extra hours of sleep.
Breakfast was at Palmetto House of Pancakes. You can read my review
HERE
.
After breakfast, we hit the road for a very long 8 hours drive home. I slept most of the way, so the time in the car felt shorter to me
We arrived home safe and sound!
I can't believe I actually finished a trip report! Yay!