After a half day of work on Friday I was able to get the car top carrier on the SUV and loaded just before a little rain began to fall. I wife finished packing the inside items and we were on the road by 2:00 pm. We made very good time through Kentucky on 75 south. Only a bit of traffic in the Knoxville area slowed us just a little bit. We were enjoying pizza in our over-night hotel in Newport Tennessee by 7:45 pm that evening.
We were up early and hit Cracker Barrel as they opened. It's one of our Saturday morning traditions when driving to the beach. We had no issues at all that morning. It was very early so we had lunch at the River City Café.
The burgers were fantastic.
After lunch we had to do a little shopping at BATB to kill time. At 3:30 pm I finally got the call that the condo was ready. This year we stayed on the 20th floor of the Maisons Sur Mer. I will do a separate review of the condo later this summer. After we moved in we spent the evening at the pool enjoying the view and few cold beverages.
This is a night shot of the Apache Pier from our pool area.
Sunday was a beach day. We spend a lot of time just people watching and reading while sitting at the beach. We had to the condo pool early afternoons then clean up for early dinners. Tonight's dinner was Bimini's. You can't go wrong with their shrimp and scallops.
Here's a photo which shows the casual atmosphere of Bimini's
Monday was a golf day. My son and I played at Arcadian Shores. We choose this course because it is so close to Shore Drive. The conditions were not that great but still better than most the places I play around home. We did play very poorly as the course got rather crowded on the back nine.
The pool felt real nice after a hot round of poorly played golf.
The evening was spent with dinner made in the condo. We watched the All Star Home Run Derby and were thrilled when Todd Frazier from the Reds took the title. (The Reds don't win much these days.)
Tuesday was a return to the beach. On this day there was a shark sited by our life guard so everyone in the area had to get out of the water for 20 minutes. Most people just moved down the beach a little bit to areas they were still allowing people to get it. They only closed around 500 yards of beach.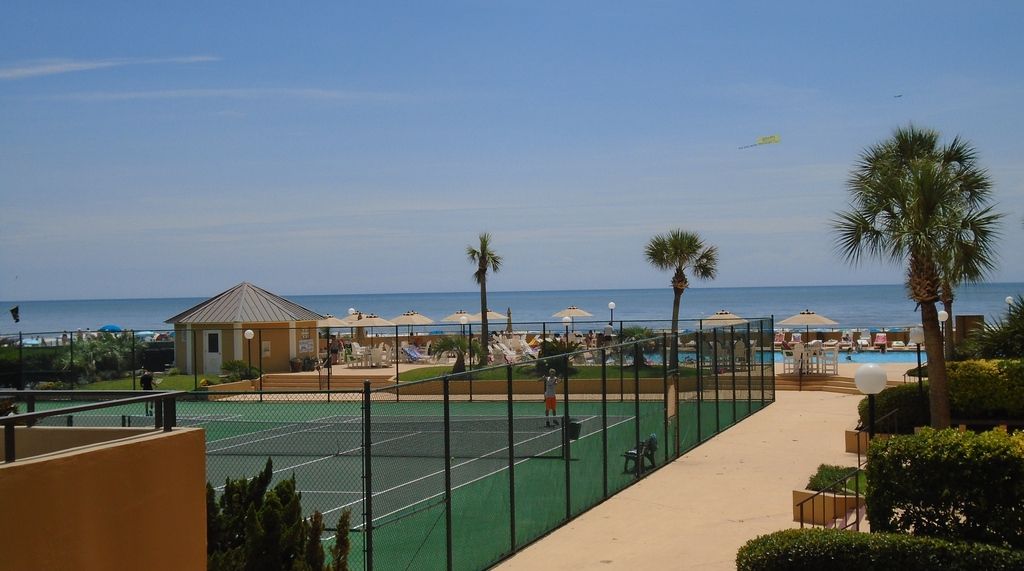 Pool area at Masions Sur Mer.
We headed to the pool then cleaned up for dinner at Crossroads at the House of Blues. I would recommend this place if you use the Restaurant.com gift certification. I had a steak while the rest of the family had shrimp and grits or burgers. Everyone had good things to stay about their meals.
Wednesday the girls went horseback riding at the Inlet Point Plantations while my son and I got in some chipping and putting practice at Harbour View Par 3. It was a nice break from full sized golf. They even have a "Kick-golf" course with very large holes.
After golf we met back up with the girls and spent the afternoon at the pool. Dinner was again in the condo which was fine because I needed a break. It was mid week and my body told me I needed to call it an early night.
Thursday was my final golf day. We played Myrtlewood Palmetto. This course was in very good shape. We played better after some of the practice earlier in the week. Pace of play was also improved. We only took just over four hours.
18th Hole on Myrtlewood Palmetto.
On the way home we grabbed a couple Gyro's from the Grecian Corner next to Kroger on Lake Arrowhead Drive. They were also very good. The afternoon was spent by the pool and dinner was Ultimate California Pizza Game Zone. The pizza was very good but the atmosphere was very loud. After dinner we spent the evening at Ocean Annie's.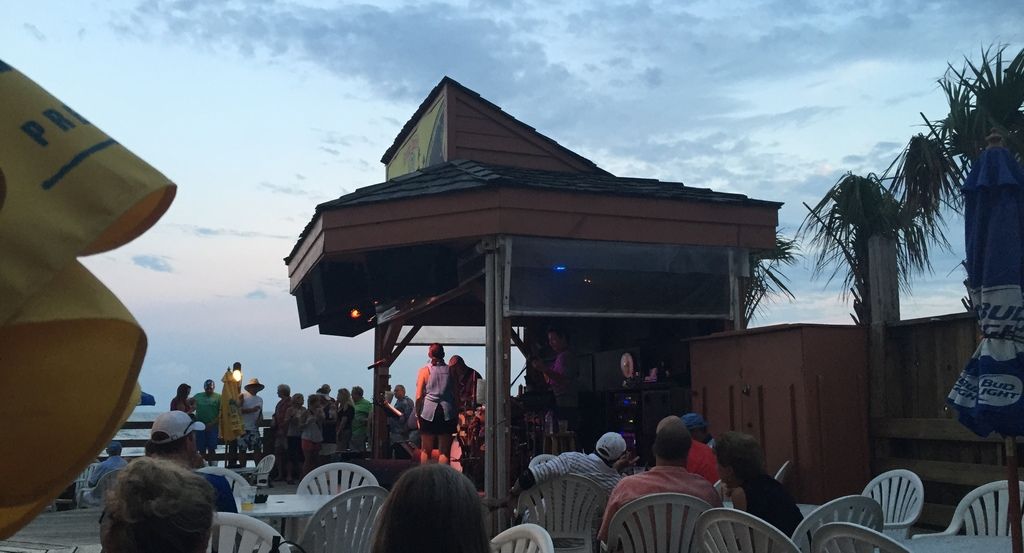 The band at Ocean Annie's
(I found the final page of my original trip report.)
The weather again cooperated for our final full day at the beach. There were some clouds which actually helped the plan to stay on the beach most the day. We set up on the beach a bit after 10:30 am. Again we didn't do much more than a little wave jumping and people watching. By mid afternoon my wife and I were sitting in our beach chairs partially in the water. It had decided that we would be heading up to the pool very soon and that this year's time on the beach was nearly over. I was sitting there kicking up the sand as the waves come in and suddenly I saw a small odd shaped object at my feet. When I picked it up I realized that my life-long mission to find a sharks tooth at Myrtle Beach was finally over. I was just 5 minutes from calling it for another year.
My only shark's tooth.
We stayed at the pool till the time we had to clean up for an early dinner. Biminis was again our choice for the final meal of the trip. I chose grouper to go with my scallops instead of shrimp this time. It was another excellent decision.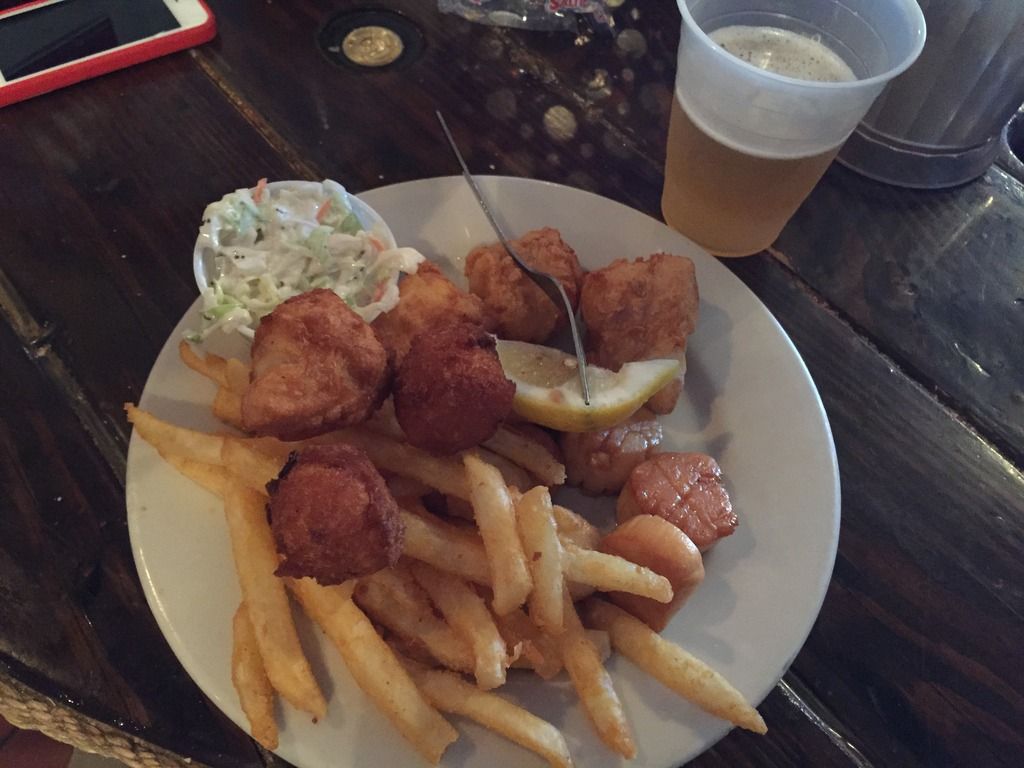 Grouper and scallops combo at Bimini's
After dinner I began the dreaded task of packing up the car. We traveled much lighter this year and it didn't take nearly as long. Around 9:00pm I called it an evening because I needed to be up at 3:30am. We were on the road by 4:30am and after three gas stops and another stop for lunch we rolled into the driveway in Landen Ohio at 4:10pm. No rain or major traffic issues the entire way.
As the family planning sits right now, Myrtle Beach may not be on the agenda for next year. It's still early but we may do a cruise and some Florida time in 2016. In 2017 I believe I will be getting a double dip of Myrtle Beach. I'm sure our family will head back for a week in the summer and I also have a guy's golf trip in the works.
I will write a longer review of Maisons Sur Mer as I have time in the next few weeks.
I hope everyone has a great time in Myrtle Beach as my family does.
I know I will miss this view!
Take care. Thanks for reading.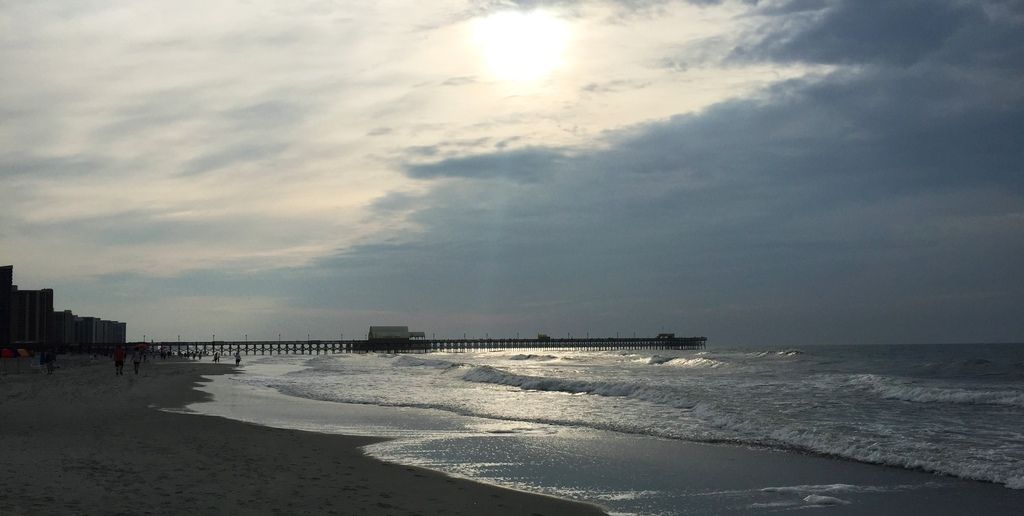 Bonus photo