Day 2: woke up about 7, everyone else still asleep. The kids wanted to sleep on the pullout, so I tip-toed into the room to find this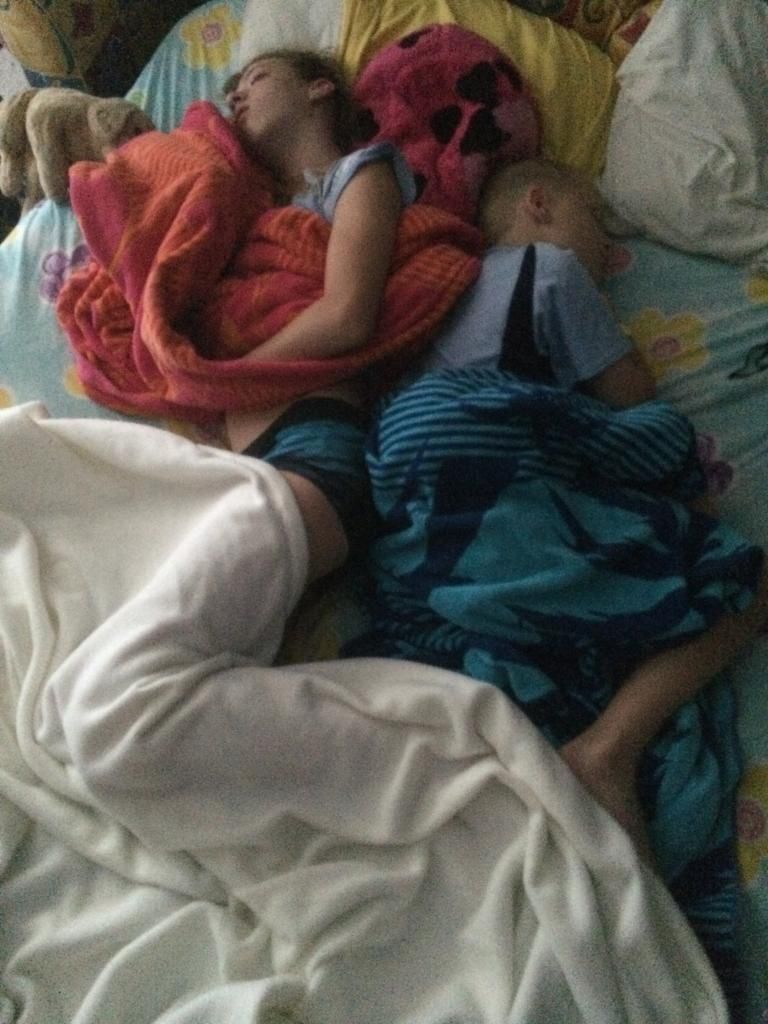 They must have gotten cold in the night because both grabbed large beach towels at some point. They looked pretty comfy so I didn't dare wake them. I had to grind my coffee beans in the bathroom with the fan and water going so I didn't disturb. What a great dad/husband.
Got some coffee and walked out to the beach, spectacular morning, mostly deserted beach, water like glass. After finally waking everyone and having breakfast, we headed out to the beach for the day. Brought lunch with us, so we stayed out until about 5. Did I mention the kids were loving the beach? Since the water was so calm, it was actually quite clear too. Surprisingly large waves started rolling in, so the art of body surfing was taught and mastered. Oh, I didn't mention that I am the undisputed body surfing king? Kids didn't believe that I could ride them until I was totally beached in the sand. Well, I showed them! Helps to have been a competitive swimmer growing up, I can hold my breath awhile.
After coming back and cleaning up, we decided we were going to avoid the dinner crowds and do some shopping during normal dinner hours. Headed down the Ocean Blvd to Main St and hit a few stores. Duffy St was looking quite appetizing, except for the long line. Back in the car and headed further south to show them the areas I frequented as a kid. Didn't recognize much of Crescent beach as I thought I would since it had been probably 30 years since I was there. I had a treat in store for my son though, one of my old haunts, Bert's Surf Shop! As a "skater", back in the day, Bert's was our hangout. When my parents weren't driving my friends and I, we often skated out there. Hard to believe it's still open. Since my son is into skating and BMX, I thought he'd find some cool stickers or a shirt or two. However....woah. This place has gone downhill. The outside looks exactly how I remember it, just a bit weathered. But man, the inside was just sad. What used to be hundreds of skate and surf boards was just a few of each. Giant cases of stickers were down to a maybe a dozen. So disappointed. When we left, my 9 year old son hit me with this in the car. "Dad, in your head, I'll bet you were expecting a bit more."
Oh well...
Hit a couple of more places and then started to get hungry. It was about 8:30 and we couldn't make up our minds on where to go, so we ventured up to Little River to hit Crab Catchers! One would think 9PM would be the optimal time for dining when you're starving? Place was slammed! But, we'd committed at that point, so we waited the 30 min. Prices have certainly gone up since my dad first "discovered" CC's about 6-7 years ago, but still so good. Deep fried corn slathered in butter? Yes, please. No complaints from either kid or my wife and all left stuffed. Albeit 10:30! I'd promised my son mini-golf, so guess where we had to stop on the way home? Yep, The Black Pearl on Sea Mtn at 11PM. 3 groups in front of us, but no one behind, so we played each hole 2-3 times. All 4 of us got at least one hole-in-one, so there was only a little taunting going on.
And I think this may be the only pic of me from the whole trip.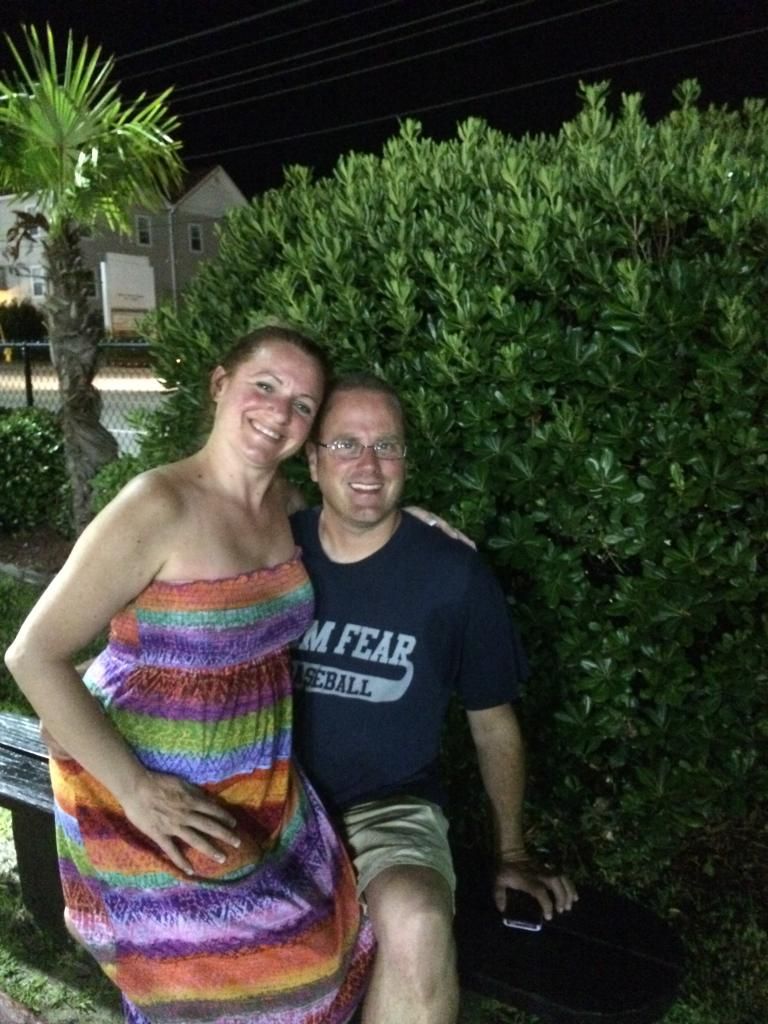 So, the first full day came to a close with much needed sleep.