Thanks for the kind words everyone. They're growing up WAY too fast
7/10-Today started out kind of ugly with rain and lightening. We hung out for a bit until it calmed down then went to Tanger to pick up something the wife had made for a friend of hers. We then continued up to NMB for lunch at Friendly's.
It was still a little cloudy so we went to NM Bowling Center for some bowling, always a hit, the girls love it.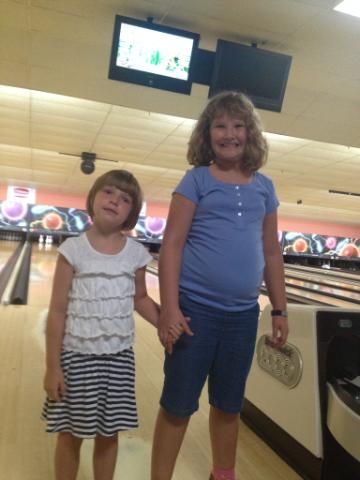 I wear size 16 shoes, and naturally they didn't have bowling shoes that big...so, socks it is. My first frame, I start my normal approach/follow-through (I'm a pretty decent bowler...usually) and after I released the ball I did a bit of Fred Flintstone shuffling then fell flat on my back...it hurt, everyone laughed of course. Luckily no cameras or smartphones were recording. Ouch.
After we finished up (no more falls thankfully), back to the condo for a quick nap. The sky cleared up so we hit the pool again for a couple hours. Then we had a late dinner of whatever was left in the fridge that we hadn't cooked up yet.
This our last full day here, packing up and heading home Friday