7/4-The drive down to Florence was fairly uneventful, little more traffic on 77 than I was expecting, great weather though. Stayed at Comfort Suites in Florence, very nice place, slept great (and I rarely sleep well at hotels).
7/5-Good breakfast at the hotel, then on to the beach. In town around 10, so we hit Broadway to kill some time. My girls abusing this poor cow...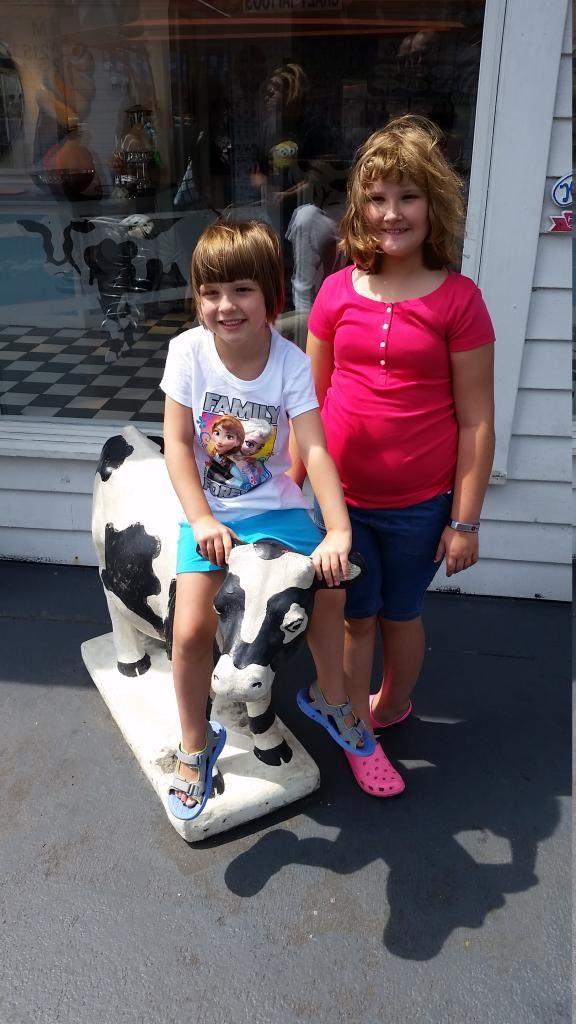 Had a great lunch at Sweet Carolina's per recommendations on the forum. Checked on the room around 1 o'clock and it was ready. Dumped our stuff and my mom and I hit Food Lion (just me, the wife, our two kids and my mom on this trip). They were kind enough to let us use the 'store card' to get all the discounts, saved us a good chunk of change, I'm now a fan. Finished up the day with a light dinner and some swimming of course.
...condo's a little rough around the edges (Ocean Park Resort #1208) and could use some touch-up, no big deal. The view is awesome as we're on the top floor, and one of my favorite things to do is finish the day on the balcony with a cold beer and look at the stars and listen to the ocean. However, our balcony happens to be right under one of those big lights that shine down on the front of the building and completely illuminates our balcony...it SUCKS. Totally kills my nighttime, beer chugging, star gazing activities. Oh well...more later, as I'm being summoned to make pancakes.