---
Thursday, final day. Finally got around to getting it posted.

Sounds like it's going to be a scorcher today. Hazy morning and I caught the sunrise coming through the haze.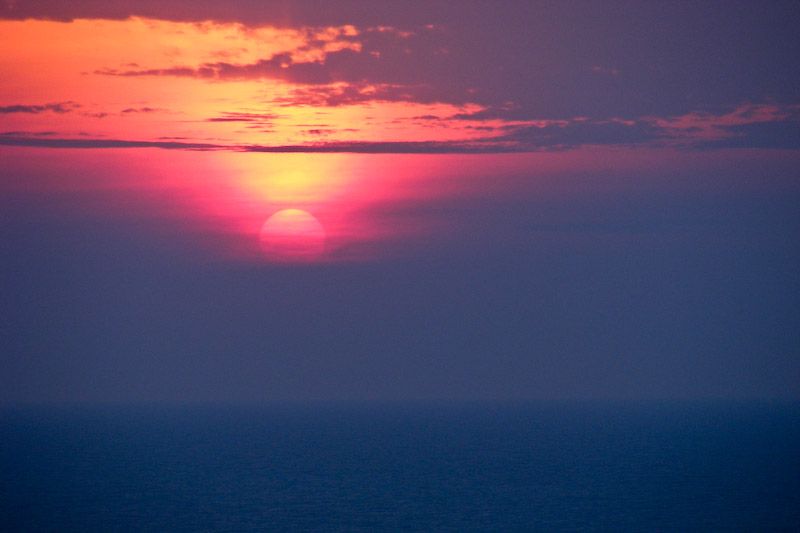 I jumped in the car early to run over to Krispy Kreme to grab some for breakfast before everyone got up. Last time I walked as it is only about 3 blocks over and 2 blocks up to Kings Highway, but heck with that, it's hot already. I'm driving. The kids were pretty happy about that.

Whoops! We all love the pudding filled donuts and it seems they forgot something. Not a single one of them had pudding in it.


Last day so definitely some time on the beach. I went out in the water and see the girls walking down the beach looking for more shells and shark teeth. So, I started swimming down the beach after them. I never caught up to them. They turned around and I am exhausted. I may look like I'd sink like a rock, but I am a strong swimmer. I love being in the water and absolutely love swimming in the ocean. Boy is it exhausting swimming south though against the current. Swimming back up with the current is so much easier. We head back up to the towels so I can check out the girls' shell and shark tooth catch.

Of course they are bugging us to swim in the pool. So they swim while we sit out at a table with an umbrella. To be in the sun is scorching. All these people who lay out in the sun all day long are nuts.

Lauren and Heather head up to the room a little early to see if it is done with housekeeping. I sneak into the pool and surprise Emma. We got to swim around a little together and after about half an hour, we head up for lunch. It's hot!

We are vacationed out. It's hot, we are sore from walking or standing on the shells in the water day after day. Heather really has played moderator for the fights non-stop all week long. Sad to say, we are ready to come home.

We are pretty much hiding from the heat. We hang out on the balcony a little bit, but it's too hot out there. I caught another dolphin breaching the surface.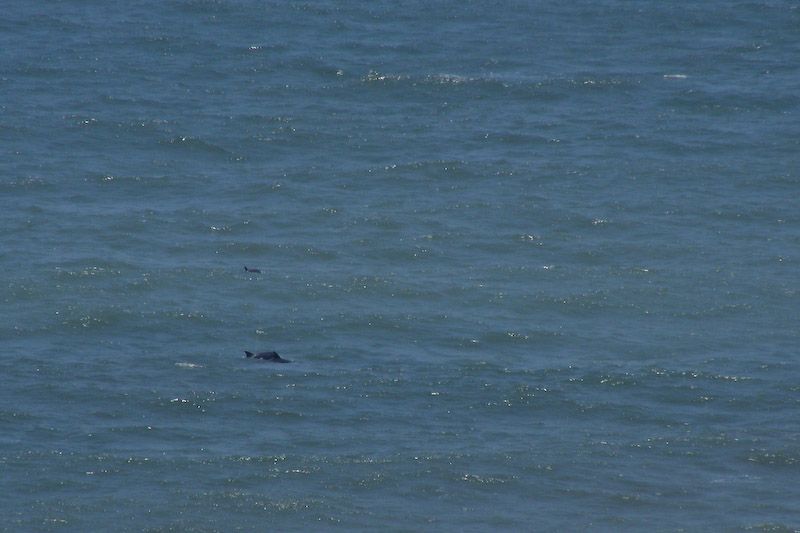 We normally eat dinner early so we head out. This time Heather wants to pick the place. She saw Fuddruckers and wanted to go there. We climb in the car and head out to turn onto Kings Highway. Turns out, Fuddruckers is right there. We could have walked. I thought it was down Kings Highway a bit. But now I'm in the left turn lane to head out on Kings Highway and Fuddruckers is across on the right hand corner! Luckily no one behind me so I could wait for the car line beside me to go and zip over and go straight.

3 hamburgers and of course chicken tenders. The burgers were pretty good. They are suppose to never been frozen, always fresh, blah blah. They advertise the bison, buffalo, and Emu I think it is as being grass fed and organic, but I don't think the hamburger is advertised that way. Still pretty good, just not as good as my own since we raise grass fed, rotationally grazed, organic beef ourselves. Part of the problem we have of getting good food in restaurants. We raise most of our own food from beef to chicken to veggies. My father-in-law does it actually, I just reep the benefits of being married to the farmer's daughter! Wish he'd get some hog though.

Fuddruckers you order the hamburgers cooked to your liking (doneness, add bacon, cheese, mushrooms, cooked onions, etc, at this stage.) There's 1/3 lb, 1/2 lb, and 1 lb to choose from. We have been losing weight a pound at a time lately, so I don't go for the 1/2 pounder or even more. Just went with 1/3 lb. You then head over to the topping bar where they have everything, 3 different kinds of lettuce, the usual tomato, onion, condiments, even salsa and such. Lot of stuff there you can put on a burger.

The burgers were pretty darn good. Nothing to write home about as we have a restaurant group at home that we frequent that makes fresh burgers that we are use to, but they are quite good. We all got milkshakes as that is advertised pretty heavily, but they also weren't anything to write home about. I expected something pretty extrodinair with the adverts, but just a simple milkshake.

So, since it is our last day..... Drum roll please..... dddddddddddddddddd

******************************************************************


Ladies and Gentlemen! The winner of the Myrtle Beach chicken strip-off is.......





"Fuddruckers! Tastes exactly like Arby's chicken nuggets!"






******************************************************************

Well, there you have it. Fuddruckers tastes just like Arby's, LOL. The fact that they had hot cheddar cheese she could dip them in really put them over the top.


After Fuddruckers we drive up Kings Highway a little bit and I swing over to the side streets to find a parking spot. We tossed about half an hour on the meter so the girls could go to the Gay Dolphin that they wanted to go to so bad all week. What did they buy? Nothing. Nada. Not a thing. Cool shop though.


We head back to the room and it's about 6:30-7:00 or so. We are leaving in the morning so I swing through our building's parking and there's a spot free! Yahoo! I grab it for ease of packing the car the next morning and we turn the corner to the elevators. They are both sitting on the ground floor with the doors open. The folks who were there says they just contacted someone, the fire system of the elevators are down, they are stuck on the ground floor. We're on the 14th, this is lousy! So we trudge up 13 flights of stairs since there isn't a 13th floor. Wasn't too bad. The elevators had better be fixed by tomorrow morning, I'm not walking everything down 13 flights of stairs.

Back in the room we pack some of the smaller stuff up and pack all but clothes we want for the drive tomorrow. I glance outside and the elevators are working again. I grab most of the small stuff and head out to pack it down under the cargo floor in the car. Back up in the room I ask if anyone wants to head down and walk the beach once more. We all jump back in our bathing suits and open the door. Now the fire alarm is flashing and there is no power to the elevators. The floor number isn't even displayed. There's a firetruck outside on Ocean Blvd. as well. Heck with that, we are exhausted enough to forgo the beach in lui of walking down and back up 13 flights of steps. Instead as it gets dark, we head out on the balcony cameras ready for the alien lights in the sky.

Nothing. We don't see the lights tonight now that we have cameras ready.

That's the extent of the vacation. Hope you enjoyed. About 1 am I noticed the fire alarm strobe out in the hall finally go out and when I checked the elevator was fixed. No carrying all the luggage, chairs, pillows, and boogie boards down 13 flights of stairs thank goodness. I'll leave you with a couple of evening beach shots that I forgot to post on Tuesday's report.