To continue on with our saga....
Wednesday
We let the kids go down to the pool today while Heather and I sat at umbrella. Heather's sunburn gets pretty bad but fades overnight. She wants to hide from the sun today. We sit at one of the tables and read for a while. The girls are still fighting. They are in and out of the pool all morning mad at each other.
We decide to change it up a little today. Instead of dinner, we head out to lunch. We head down to Pawleys Island Pawley's Island Tavern. I still couldn't find it. I walked behind the shops that are there and over to the right where I see a building through the trees while Heather and the girls wait. Nope, that's not it. I walk around behind the buildings making a circle, can't find it. My phone goes off and I have a text, "where are you?" Heck, I have no idea, LOL. They decided to come behind me and we were circling out of sight of each other. They finally catch back up to me and Heather says there's something over there. Bingo, there it is.
This is something interesting I was doing. I downloaded Google My Tracks, Android GPS tracker. You can then upload it to your Googlemaps account. I did this every time we were out as well as the drive. Pretty neat. Here is a shot of the map of me hunting for Pawleys Island Tavern.
Interesting decor. We didn't expect the place to look anything like that. It is like a shack. Again, Heather is hesitant same as she was with Prossers which we didn't get to. We walk in and seat in the back room with all the $1 bills taped to, well, everything. The girls enjoyed looking at all the ones people wrote dates on looking for the oldest date. The oldest we found from our table was only 2007. Emma keeps saying, "Why would people do that and give up a dollar? There's a lot of money in here!" I counted just the beam between the windows and told her there was $43 just on that beam.
No pictures this time of the food, I don't carry the camera around everywhere like I use to. I was into learning photography pretty heavy, but quickly outgrew my superzoom camera limitations. Thus, I don't do much in the way of photos any more. I only had my cell phone and it is not good lighting for trying to take pictures, so I didn't photograph the food this time.
Heather got the pulled pork sandwich, I went with shrimp again. Lauren wasn't that hungry so she just got a hotdog, which is a heck of a hotdog at 1/4 lb. Emma, well, take a guess, LOL.
My shrimp were very good. I don't know what they were coated in before lightly frying. It wasn't a batter, it wasn't breading. Looked like they were dipped in a liquid then fried. I could still see the shrimp meat through whatever it was dipped in. It gave them a little crispy coating. Again, they were very good.
Heather's pulled pork on the other hand was not good at all. I gave it a taste, or I should say gave it a non-taste because there was no flavor in it at all. Maybe a very little hint of watered down vinegar which we are not fond of to begin with. We figured that out in 2011 when we stopped at Lexington BBQ for lunch on the way down. We are regular old tomato based BBQ sauce pork fans. This pork though had absolutely no flavor to it at all.
Emma and Lauren's meals were pretty basic. You can't do much to a hotdog other than make it large at 1/4 lb. Emma did comment that she didn't like the chicken strips very well. I think there was a bit of the batter that didn't crisp through so it left some soggy areas on the chicken.
Lunch finished, we roam the little shops there and head out to drive through Murrells Inlet. On leaving the parking lot, I see a sign fairly large that just reads "PIT ---->" I didn't even notice it when we were parking, nor do I think I would have made the connection with just PIT. There is a smaller sign that I now notice that has "Pawleys Island Tavern" written on it, but it is easy to miss that one.
Some pics of the swamp area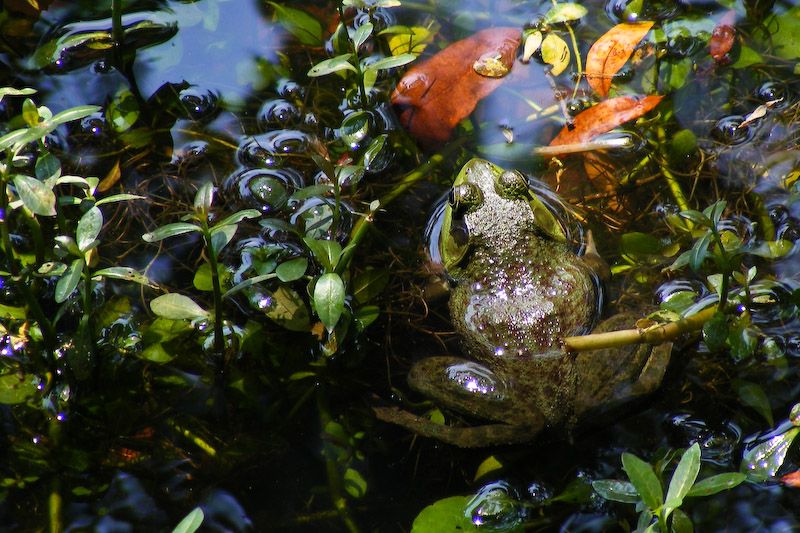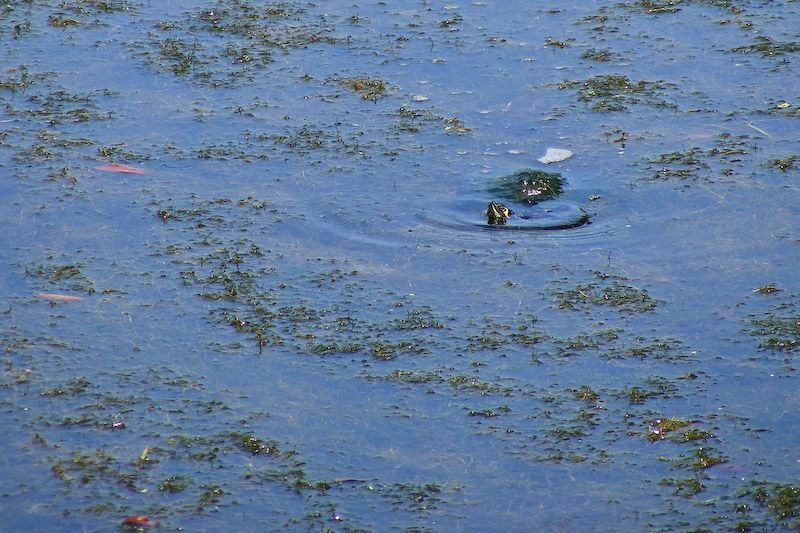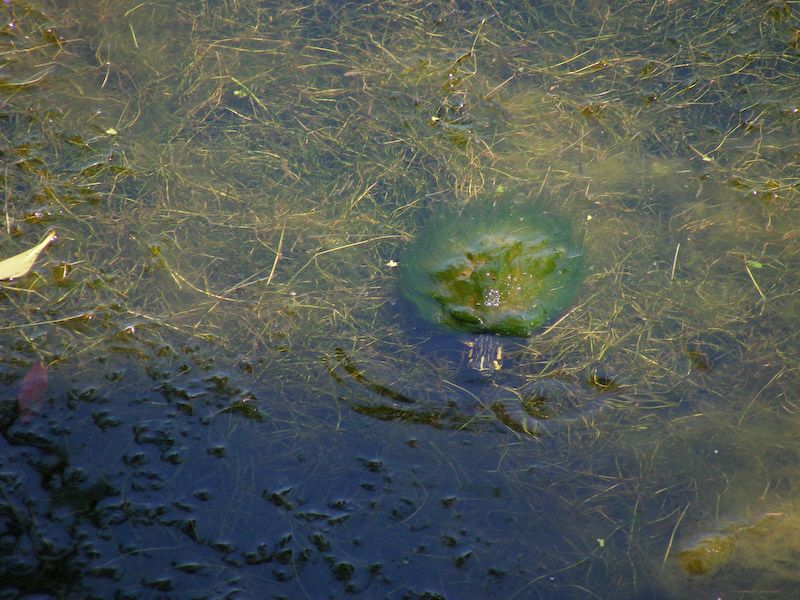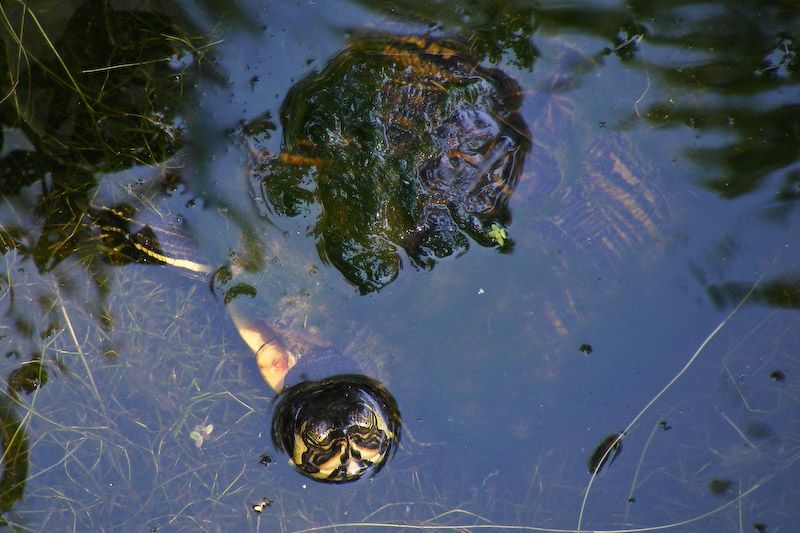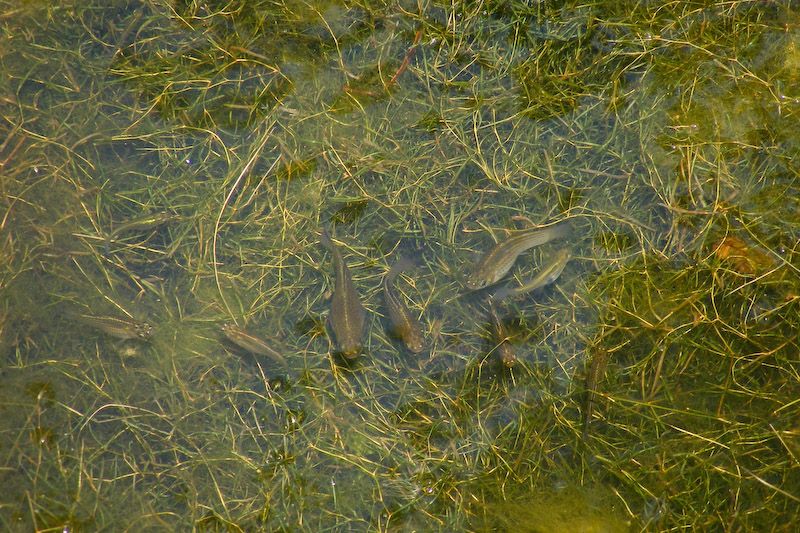 At Murrells Inlet and finally no one is sick! We shop the Lazy Gator. We overheard the clerk saying to another customer that the gator they had in the swampy pond ran away. That's a bummer. We saw it in 2011 when we were there. Lots of turtles and frogs in the pond though as seen in the pics above. I have a photo of the gator from our 2011 trip.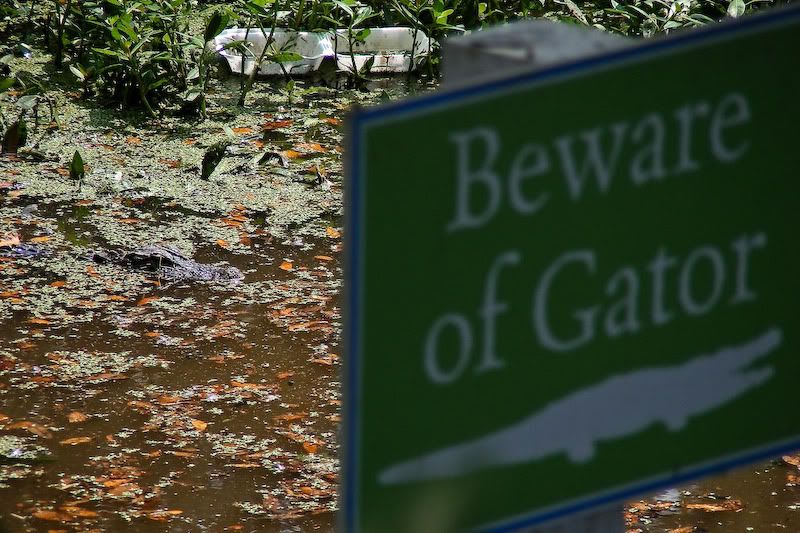 On the way back, we rode around Garden City Beach area a bit and headed back.
Back at the hotel, Lauren and I walked over to the Eagles store to grab a Myrtle Beach t-shirt. They didn't have anything in Emma's size, the kid's were too small and they didn't have extra small in adult. I grabbed a nice shotglass with Myrtle Beach on it to fill with sand and put our shark teeth in. Lauren wanted to check out I think Pacifica which is about a block down Kings Highway. We should have gone there first, everything was cheaper. We grabbed some Subway sandwiches for dinner to eat out on the balcony or go down to the umbrella tables later on even though we have turkey and tuna fish up in the room. The girls just like Subway.
Emma and I walked a bit on the beach for some sand to put in my shotglass with our shark teeth. We see ribbons of black sand over on the other side of the hotel than we usually go. That is the stuff I am looking for. All is great when kids seperate. Emma never wants to leave the room, but asking her if she wants to walk beach with just me, she's all into it. Same with Lauren, if I ask her to come down to the water with just me she comes along and has a great time.
Hanging out on the balcony again we spot 2 kayaks way out in the water. I don't know where they came from, but they are out there paddling away trying to beat the current. They are paddling south, but moving north.
The pelicans finally flew by. I was semi ready. Camera is now outside so it won't fog, but I had just turned it off from taking the pictures of the kayaks. I was a tad bit late as the pelicans went by.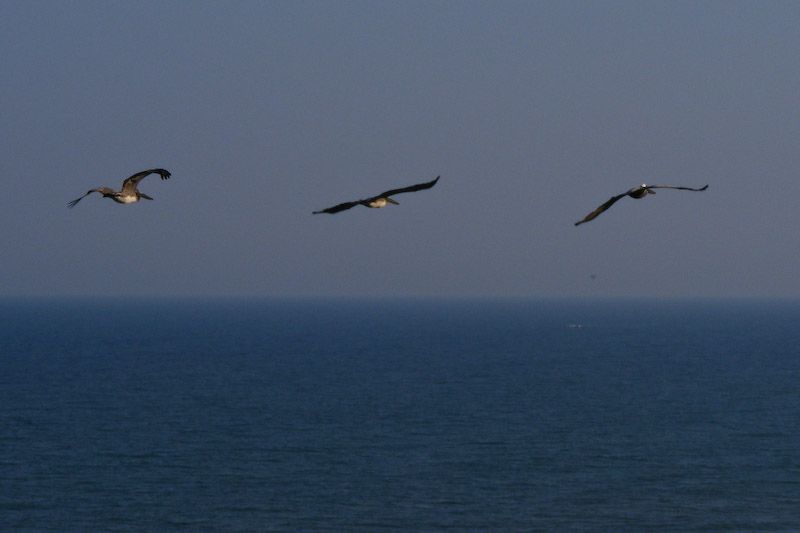 Also didn't see dolphins all week until this evening. They are tough to capture.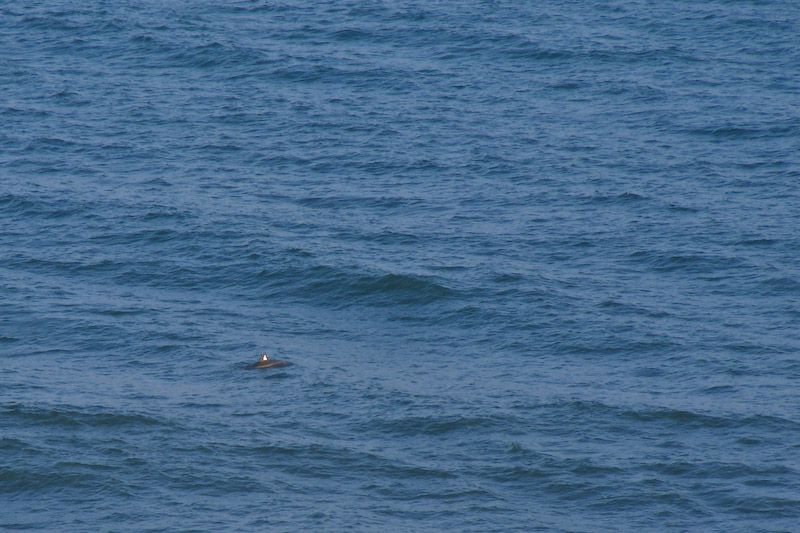 We ate our Subway late and all headed down on the beach for the evening activities. It's Wednesday, fireworks night off the 2nd Ave. Pier. We head back down and play in the surf waiting for it to get dark.
10o'clock and the fireworks just start when Heather points out across from us above the ocean. The orange lights are back. This time the sky is really clear. Three distinct orange glowing lights, 2 in line across the ocean and a 3rd straight up from the right hand light. They appear and glow for a bit before they faded away. They appeared again, same pattern and very distinctly a few minutes later. Very strange.
Trip is coming to a close. Only 1 day left as we'll leave fairly early in the morning on Friday.