It has something to do with Murrells Inlet. Went to The Lazy Gator in 2011 and then Creek Ratz for dinner (awesome.) Emma got sick back then and we ran immediately back to the hotel. We go to Murrells Inlet this trip, Lauren gets sick. We've yet to see the Marsh Walk. I don't know where to go to see the docks. Murrells Inlet doesn't like us.
I'm losing track of time. What is it? Oh, Tuesday! I'm obviously way behind now since it's all over now. I'll get it all in though.
I was up way too late on Monday night. After sleeping all afternoon, Lauren can't sleep either. We are sleeping in later each morning, the usual for me because I end up staying up later and later. I use to love working night turn shift because I could never fall asleep at a normal time at night then have to get up early in the morning. Lately though, I have been getting to sleep at normal time even on weekends and getting up after my customary 6 hours of sleep. But Monday night was back to my old 2 am heading to bed.
Remember the lifeguard out in front of our hotel? Well, I've nearly drowned about 7 times now to be rescued, LOL
. Nah, just kidding, haha! Heather is actually getting up early, even before me which is very unusual. Of course, she points out our lifeguard, the girl is gone. Now the lifeguard is a boy. Looks like my fake drownings have come to an end. Lauren gets up and comes out on the balcony. She is pretty happy with the changing of lifeguards
.
Emma and Lauren are getting on each others' nerves more and more. Neither want to do anything. We tell them they are doing whatever it is we want to do and they have fun. I just don't know why it's such a hassle before hand to get away from the hotel. What kid doesn't want to go to the beach when you're at Myrtle Beach? I certainly loved the beach when I was a kid even if I didn't like being dragged everywhere else when we weren't on the beach.
We head down to the beach today. Of course, the girls don't want to but we are anyways. I went out in the water and the girls hung out looking for shells in the surf. We spent a good bit of time up chillin in the chairs reading. I actually read 2 whole chapters this morning, LOL.
Lunch time same ole thing. That's starting to get boring. After lunch everyone grabs showers and they just hang out on the balcony. I am jumping in the car for that elusive Sudafed at Walgreens. Hey, I haven't listened to a thing on the radio the entire time since leaving home. What is my beach music? Well, I have to go back, way back to when I was a youngster coming to the beach. Van Halen, specifically the album 5150. Hot Summer Nights has always been my #1 summer song. We listened to that album many many years through the summers playing basketball, softball, volleyball, at the pool, in the car once we had driver's license, at the beach on vacation, in our Walkman stereos, all up until OU812 came out, which then it was both albums playing constantly all summer.
So, I think I'll just drop the windows, wack open the ole sunroof, still cranking the AC on to blow cold air on me I plug in the phone and crank up some 5150 to head out to a Walgreens. I'm jamming out to Halen and cruise down Ocean Blvd. Plans are to hit the 2nd Ave. Pier for dinner, but I don't think the kids can make walking the half mile to the boardwalk and the mile down the boardwalk again. I nearly killed them in 2011 doing that, LOL. My work is 115 with extremely high humidity due to the steam molding I do so I am pretty accustomed to extreme heat. I still don't do well with sun, but can handle it better than the girls. Thus, I think we need to drive up and park.
So, on my way to Walgreens I check out parking along the boardwalk area. I have a feeling that it is going to be a madhouse though.
I get to Walgreens and get our Sudafed. When I get back we chill in room for an hour or so, then head down to 2nd Ave. Pier for dinner.
It is absolutely excellent! I've never done food pictures and figured I'd snap a few since we had some great light coming in the window. So, did Emma get chicken tenders? You bet she did. Though I didn't get a shot of them. Heather had the grilled chicken sandwich with basil mayonaise. She had that last time and loved it. It didn't disappoint this year either. I did get a really bad shot of her sandwich, can't make out too much. Sorry about that, I probably shouldn't even include it. I was taking it holding the phone way out of my view and guessed.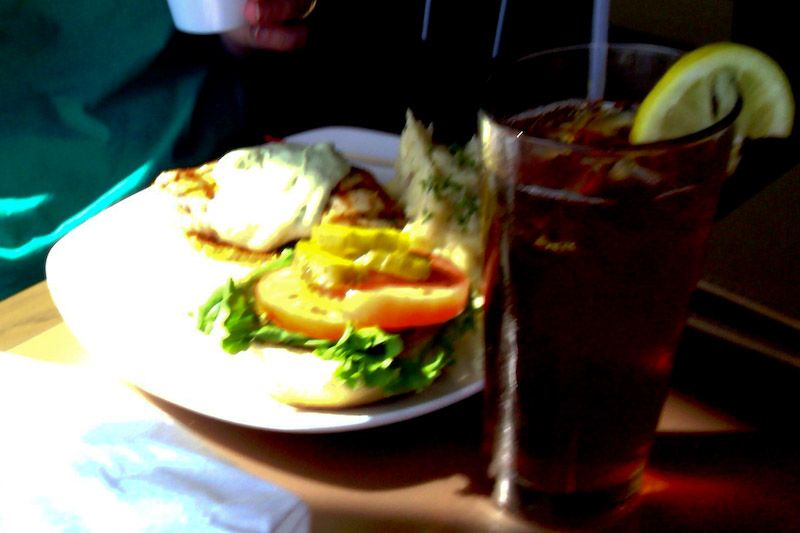 Lauren and I got a salad with our meal. This is what I grow out in the garden and love salad like this. Caught someone theiving on my cucumber chunks on camera, LOL.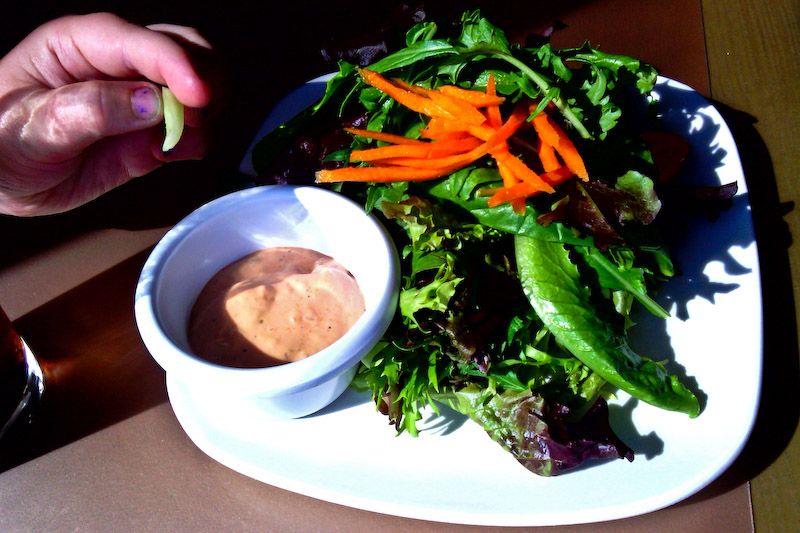 Lauren is usually a hamburger girl when she goes out. This time she wanted the chicken breast with BBQ sauce. I gave it a try and it was extremly juicy just like the chicken on Heather's sandwich. Good sauce on it as well.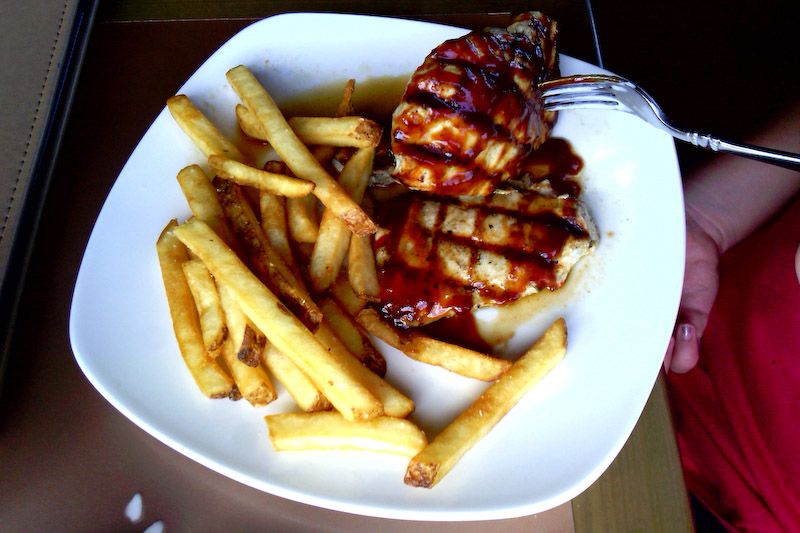 And for me? Well, I'm down here to eat as much shrimp as I can so I got the fried shrimp platter. Simply awesome. Cooked perfectly. Breaded lightly and not heavily fried. So fresh. I thoroughly enjoyed these. I had some hushpuppies with mine which had bits of sweet caramelized corn in them.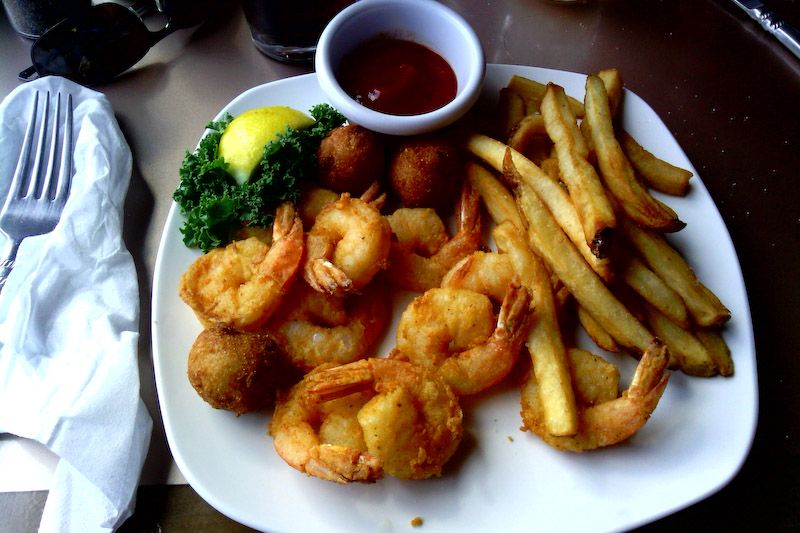 Total for dinner tonight is $53 without tip. It seems we are much happier with dinner when it costs about $10 more. All our $40 dinners we weren't impressed with.
Shark attack!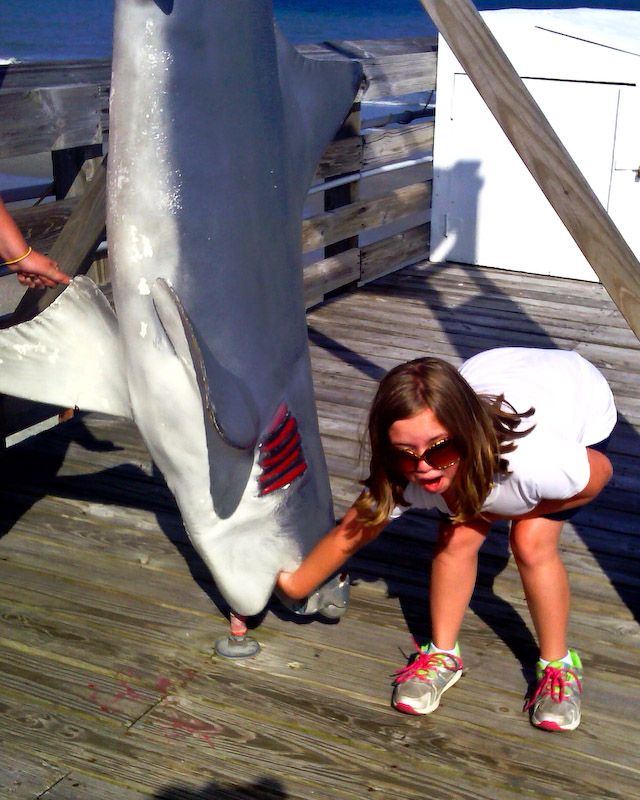 I warned you all of a shark attack. That's our little Emma, as corny as ever when she's not the usual bear.
I told you the girls were fighting the whole time. Emma was attacked by the shark and I think Lauren was pretty happy about that and gave the shark a big hug.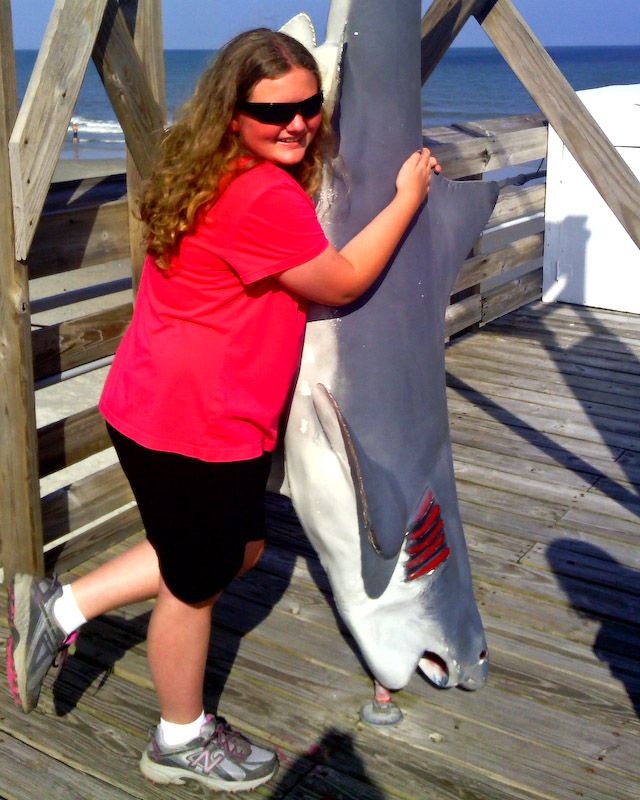 After dinner we get to walk out on the pier. I'm hoping someone catches something for the girls to see. As soon as we walk out, someone is walking a catch down the edge. It's a ray, pretty cool. Unfortunately Emma can't see over the railing as well as it keeps swimming under the pier. Eventually either he cut the line or the line broke because we walked out to the end of the pier and he showed back up there.
The meltdown? Yes, this is where the Emminator Meltdown begins. "This is so boring!" "It's too hot!" Emma's nickname is The Zipper because she is normally just a ball of energy. Yet, any time we go somewhere she has no energy to do anything, complains of being tired, and complains of being bored. We walked to the end of the pier and I did get to manage to get some shots off.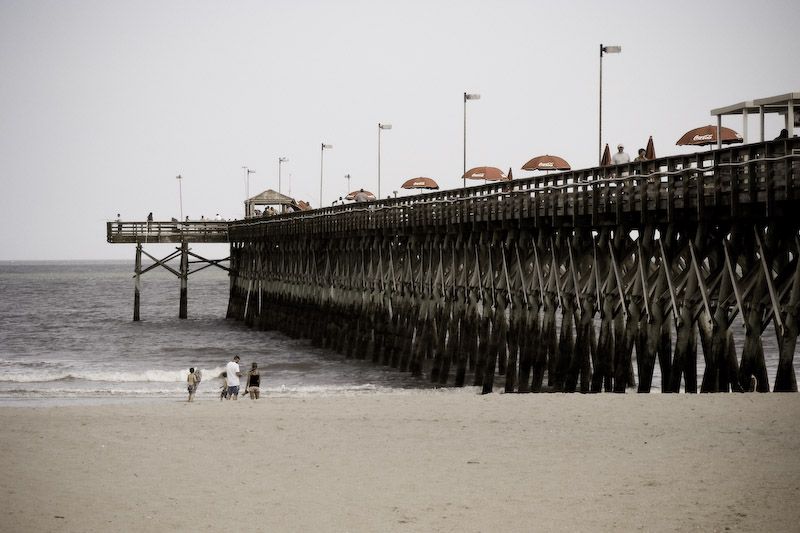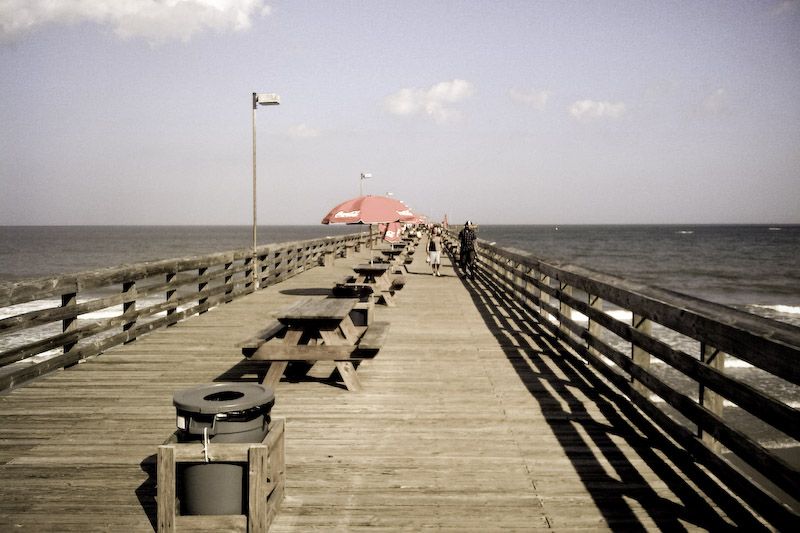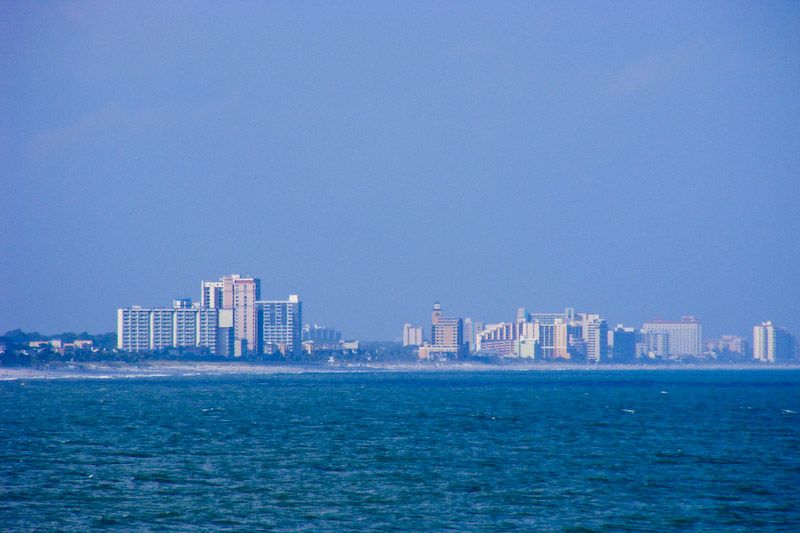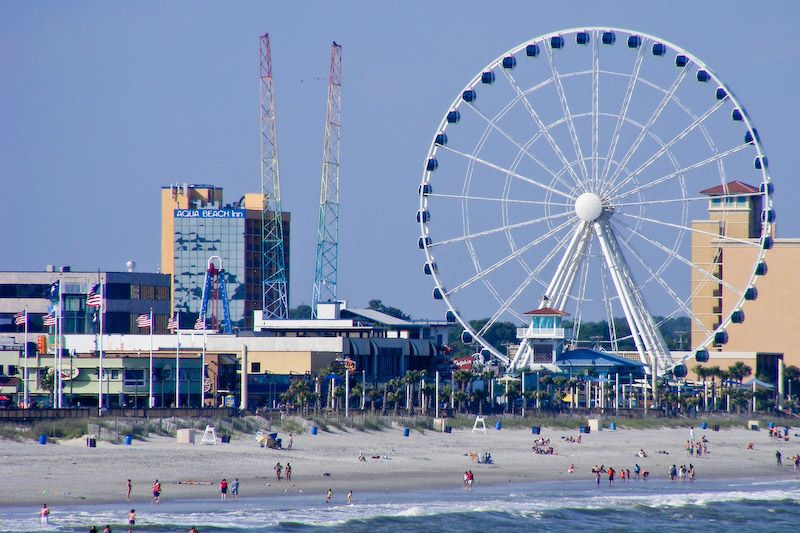 We promised Emma for the pier walk, we would walk down the boardwalk and grab some ice cream. Emma really melts down now. We don't want to walk out in the mainstream out on Ocean Blvd. Instead we figure we would walk down the boardwalk and towards the main stuff around the skywheel, we would find ice cream. Well, Emma didn't make it. Acting like she is going to die from walking, we turn around and head back to the car. Like I said, we've been avoiding Ocean Blvd. and all the shops, but Lauren wants to go to Gay Dolphin. Hopefully we can make it there at least before we leave.
Why is it when you are hunting for something, you see them everywhere, but when you want it, you can't find it anywhere? Heading back, we are going to stop for ice cream. Everywhere we look when driving somewhere in the car we see homemade ice cream shops. Now we want that and we can't find a thing. There is an ice cream place 1 block over from where we park at the hotel so we stop in there, Kirk's 1890 Ice Cream Parlor. I can't believe it, it is nothing more than really expensive plain old Blue Bunny/Bell ice cream. Heck, at home this is what we always get when we get ice cream with groceries, only for the price of a half gallon, we are paying for a single scoop cone!
We pretty much hung out in the room the rest of the night. Heather and I enjoyed the balcony while the girls watched TV.
Oh wait. Didn't I say something about alien abductions? Ok, so no we didn't actually have an alien abduction. Nor did we go to BATB to the Alien Encounters. I've told the girls about the orange lights in the sky that have been reported for years. We are sitting out on the balcony when Heather jumps up and points out to the sky over the water. "Look!" There it is right in the middle of the sky a large orange light appears. Another one appears and then they disappear. It is pretty hazy out and they aren't very bright, but they are definitely there. They appear briefly again and disappear. Very strange. We sit out for a while longer waiting for more lights but no more appear.