SUNDAY
Just another day at the beach. Now we're ready, got our lunch grub in the fridge, kids have their boogie boards. Picked up a bucket and small shovel because I promised Emma some sand stuff for her Hotwheel cars (she loves her Hotwheels.)
Again, I'm up with the sun while everyone is snoozing away. So it's another morning of watching the sun come up and watching the lifeguard setting up the umbrellas. Last trip the lifeguard out in front of our building was so meticulous at setting his umbrellas up. He would pace them off, stoop down and sight down the beach to the other umbrellas. Move around and sight down the other end of the beach. Move over an inch or two, sight down the beach again, poke his digger into the ground, go pace it off to make sure it was right, etc, etc. It was funny to watch. Well, this year, I've got even better to watch....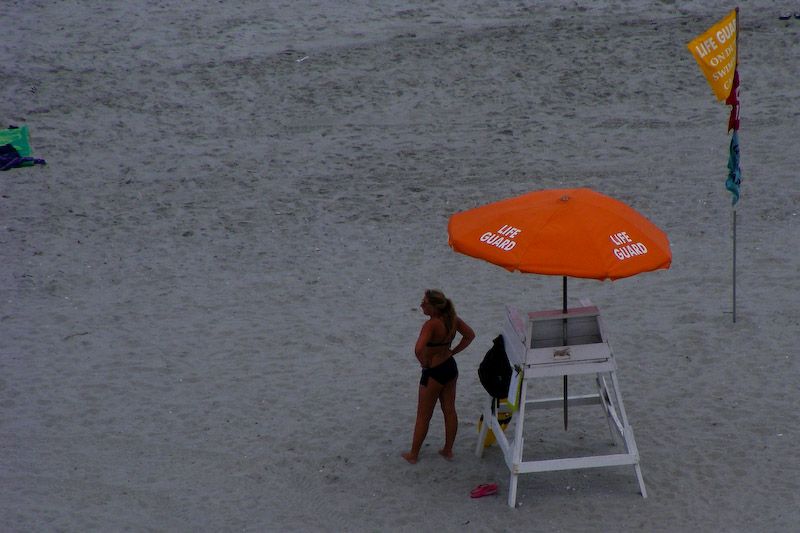 Ha ha! I was razzing Heather a bit about my beach view.
Yup, it's going to be another typical day at the beach. It's a bit more overcast today. This morning the water had a bit more bite with the temperature. Still amazingly warm though. We didn't have water like this even in August in Maryland. Even though the tide is still up there and the waves are still pretty large, it isn't nearly as rough as it was yesterday. The water wasn't pulling me around at all. Lauren and Emma even ventured in a bit deeper.
Well, today is the day. I need to make something for Emma to play with her cars. So, we mounded up some sand, made a few building things that she could drive on. Smoothed out some roads for her. Made a little bridge with a tunnel underneath. She sat and watched me make all this, then went up to the chairs to read her book the rest of the morning. Well, it was fun anyways. I am certainly not getting any architectural engineering awards for it or anything, but here it is....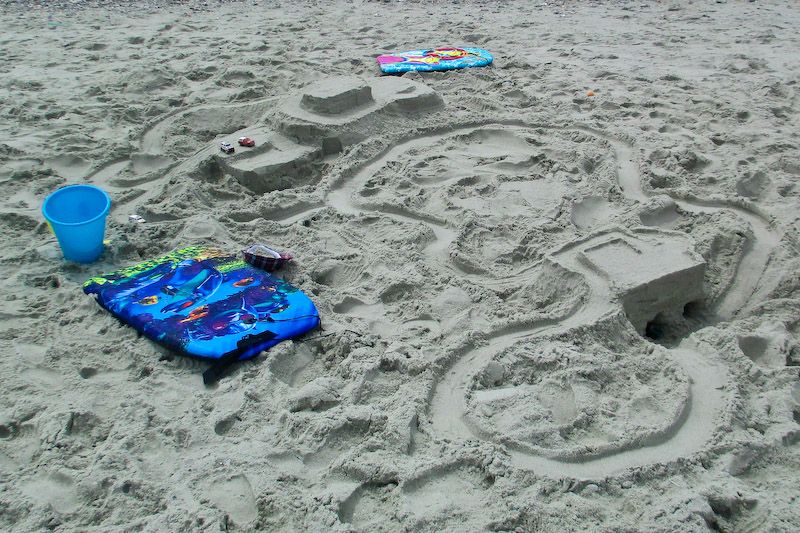 So around 12:30 we head up for lunch. Now we have some turkey sandwiches, some tuna sandwiches, Heather grabbed some salad mix for herself, the kids like those little 4 inch individual pizzas, a heck of a lot lighter than yesterday. We sit down out on the balcony and Heather looks like she is on fire. She's a redhead, and boy do I love the redheads She doesn't do well in the sun. We were all sunscreened up, but her prescription says not to do too much sun. The script must somehow affect the sunscreen because the rest of us are fine, though I've got Italian blood in me, I typically burn once, then I'm tan and fine in the sun the rest of the summer. Emma the little one is like me while Lauren has to make sure she is all sunscreened up. I feel so bad. After lunch, she ended up just staying in the room and Emma didn't want to come back down to the beach either.
While at lunch, I snagged a north and south photo from the balcony.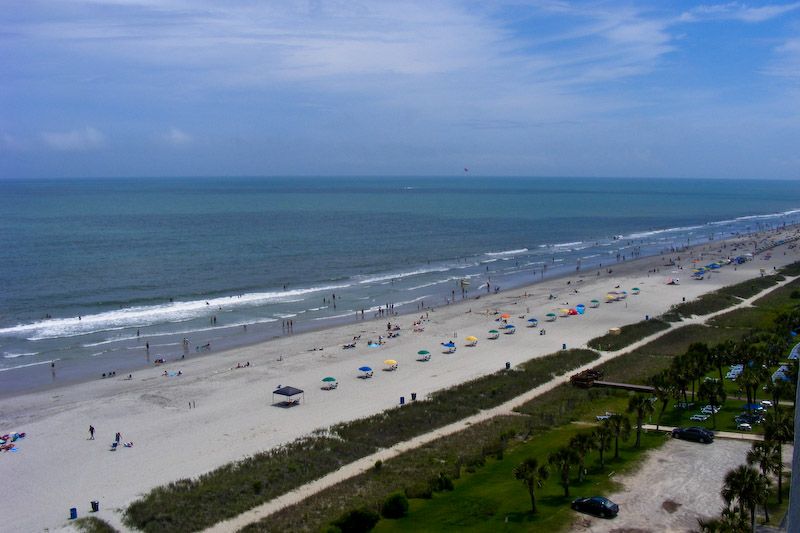 Well, the tide is out now after lunch. Lauren has her boogie board and we head out in the water. She braves it out and when a break from the larger waves comes, she gets out beyond the wave breaks to bob around with me. She's still pretty scared of the big ones coming though even though we just bob up and over them so she headed back in shallower after a few minutes. She's getting braver though, maybe I'll have her out there for a good bit in a few days.
I pretty much bobbed around out there while Lauren was jumping onto the board in the waves trying to ride them in. We took a bit of a walk down the beach a short ways grabbing some shark teeth here and there.
We headed back up to the room and was amazed again at how little time passed by. We were only in the water about an hour, felt like several hours. Playing in the waves exhausts you, wow.
Dinner time tonight, I have plans to head to Murrells Inlet, Pawley's Island, or other places every night. Emma has been bugging us about Ultimate California Pizza though all day today. There is one several hundred feet down the road, but no one wanted to go anywhere. I ended up ordering for delivery and we ate out on the balcony. I have to say, I was wrong about UCP. I must remember it differently because it was excellent. A little too much sauce for my liking, but everything was tasty, from the crust to the sauce to the cheese. Made Emma pretty happy.
After dinner we head back out on the beach. Walked along nearly to the 14th Avenue Pier before the kids were tired. Emma keeps bringing me black shell fragments asking if they are shark teeth. She finally found of her own tonight. Once she found one, she starts spotting them everywhere just like my experience. I think tonight is the night of the smallest shark teeth finding. We were finding some really tiny teeth. Again, everything we found was tiny. Also found some nice shells for them to add to their collection.
Some pretty small shark teeth.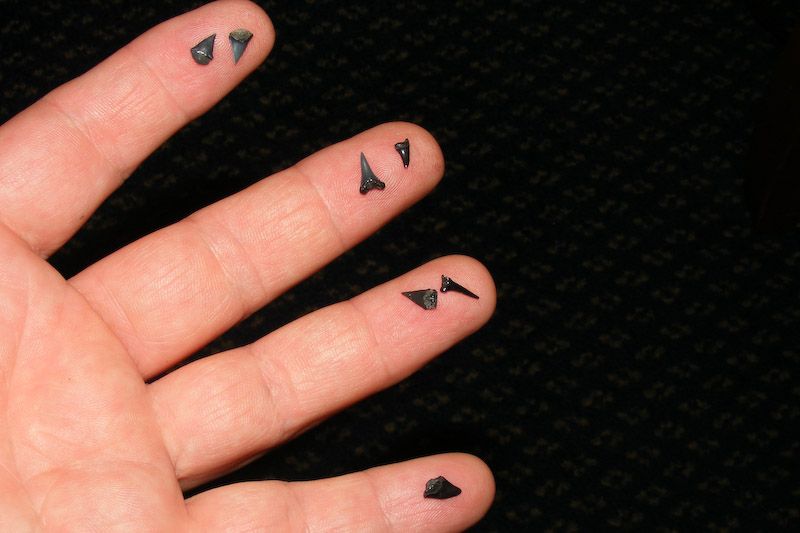 There were two groups setting up to fish as we passed by on the way towards the pier. On the way back, still light out, there was a lot of commotion and a large group standing around. When we got closer, we could see they had about a 4 foot shark up in the sand. They weren't fishermen, just idiot kids fishing. Idiots because now the 3 of them are trying to pick the shark up. The other group yelled, "what do you plan on doing with it?" and they hollered something and went running up to the hotel carrying a 4 foot shark in their arms. It was wrenching around and snapping it's jaw while they ran up the beach. They ended up dropping it once and they're lucky someone didn't get bit. I have no idea what they did with it, they ran into the hotel property whooping and hollering.
Correct me if I'm wrong, but it is illegal to specifically fish for sharks, right? Even so, you don't go running up to the hotel carrying a 4 foot shark like a bunch of idiots. I'm fairly sure you can't keep it if you catch one and don't think you should anyways. Sure it is neat to catch adn see, but any real fisherman would let everyone watch you land it and see it, then release it back into the water. What a bunch of idiots.
Had just my phone with me and tried to grab a shot. First one was as they ran by but my phone camera was set for the sunrise, so too dark. I couldn't recover it and it looks real bad. You can somewhat see they are carrying a shark. Second shot they were too far away and reaching the hotel. This is just before they drop the thing in the sand. Had to hurry and get through the clunky camera controls to fix the exposure and get the shot. Again, a crappy image.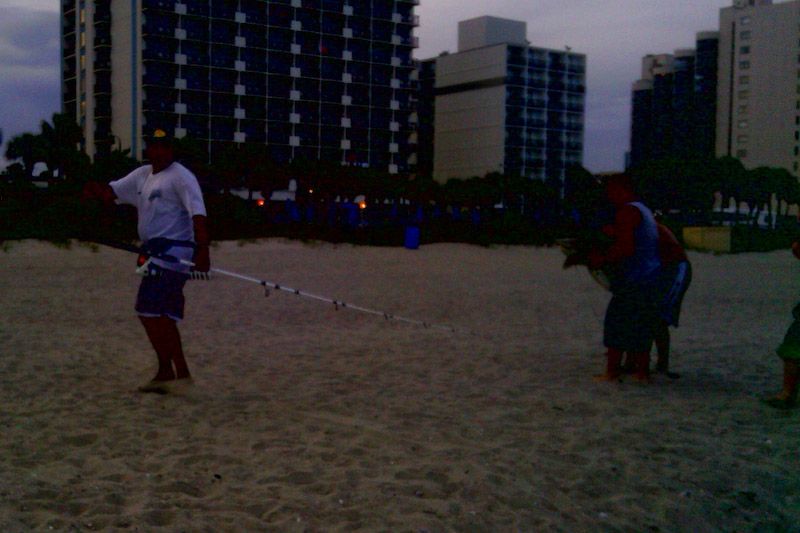 Speaking of idiots, we head back up to the room and the kits get some TV time while we hang out on the balcony. There is public parking next to our neighbor hotel and a car pulls in with 4 kids in it. They sat there for 3 hours blasting their getto music while the girls stick their butts in the air and shake it for 3 hours. I guess that is what is sexy today. Yeah, I didn't listen to that garbage when I was young and I certainly don't want to listen to it for 3 hours while on vacation sitting on my balcony trying to enjoy the ocean. I'm glad I live out in the middle of nowhere. The more I'm in the city, the more I can't stand probably 75% of the people I encounter out in public, and not just the kids these days.
Well, now it's bedtime. I am typing this up on Monday so I hope I can get this posted so it's not too far behind.
Stay tuned for next time. Monday is going to be a bit of a rough day.