Again, thank you all for the kind words and the attentive "listening" to my ramblings
I agree Lisa, we just let the snakes be. They obviously are keeping the rodent population down (haven't seen a mouse/field rat ever) and they leave when we get there.
Now Thursday morning when we got up it was very overcast. We had finished all our laboring and were pretty much free. We were going to ditch the beach and do something touristy but hey you know us...no way. So we headed over to Cherry Grove and lo and behold within the hour the sun was shining and temps warmed nicely. We spent the better part of the day just enjoying God's creations of the wind, water, and sun. In our opinion nothing is greater!
I have to be honest for the life of me I can not remember if we did anything special on Thursday other than the beach. I even called Paul to ask him what we did and he said something to the effect of...
"Didn't we eat pizza or something?"
"No, dear that was like Tues. and I am not asking what we ate I am asking if we went anywhere."
"Oh yeah, that's right, I have no clue what we did. I'll call you later if I remember."
Great.
So on that note... I am posting a pic of the treasures we found this trip (Ron baby, these are for you
). I was super excited to be able to find the all illusive mini scallop shells I adore. I am telling you people these babies are TOUGH to locate. They just always seem to break up before the shore as they are so fragile. And yes, the little snail shells were indeed empty and hollow. We wouldn't have taken them if they were alive! So without further ado...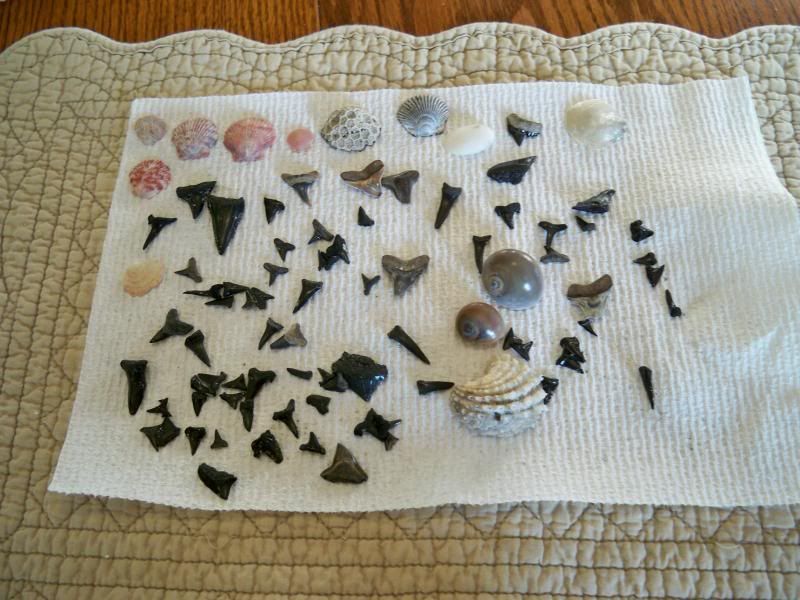 Now if you look at the top row around 5th in is a piece of coral. It is completely flat on the back and I asked my darling husband to please make a ring out of it for me (yeah, he can make jewelry too)! Wouldn't that be cool?? It's a perfect size and in excellent condition. So those are all the little fun surprises we found.
For dinner that evening we went to Carrabba's. Yes, I know it's a chain but we don't have them here in our area and we love their food. I adore that they serve olive oil and herbs to dip the bread in as that is what we do here in our home. Italians very rarely eat butter (weird I know) they put EVOO on everything
. The meal was great as usual and after dinner we walked off, or at least tried to, the extra calories. Love me some Cherry Grove beach at night!!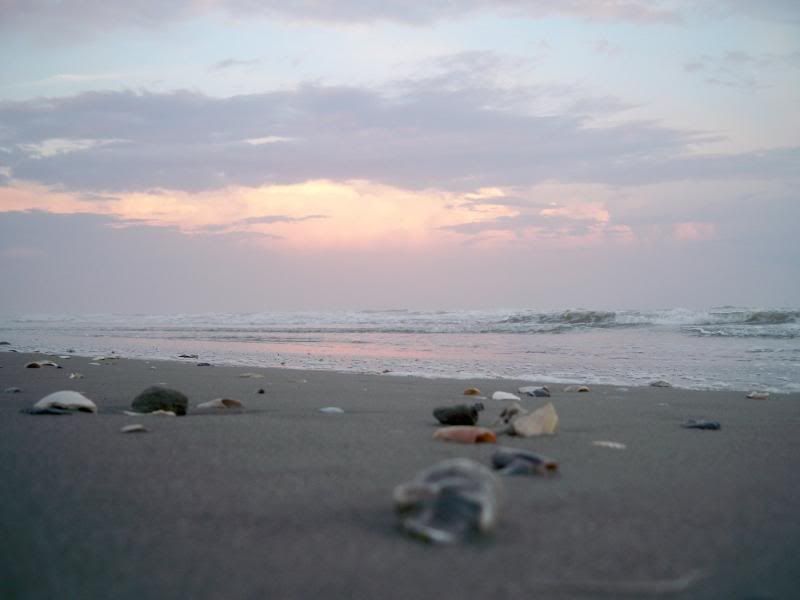 Friday we woke to some strong storms but that was fine with us as we had planned to spend the day with our Realtor looking at a bit larger home. As most of you know we have been planning to move down for some time and Paul will have his 30 years with the local government this Sept. so it looks like maybe (God willing) next spring could be it. I love where we are now but we would have to add on a bit so we are weighing our options to see if it would just make more sense to buy a slightly bigger home or just expand what we have. Anyhoo, we spent the day with our buddy Tom and saw what was out there. After Tom dropped us off we went to the Shack in Cherry Grove for lunch (see review above) and loved it. If you are ever in the Cherry Grove NMB area please try this place for ome really yummy southern food. They have everything from collards to chicken bog...excellent.
After lunch we decided to do a bit of shopping. There is a new store in Little River by Coquina Harbor called "Sea Island Trading Company". It had the most beautiful jewelry, Vera Bradleys, clothes etc. for women. I could of bought every item in that store. It was so lovely. I tried to find a homepage for them but could so here is their FB page. Ladies seriously take note of this place; just lovely
https://www.facebook.com/SeaIslandTrading?fref=ts
Dinner that evening was California Dreaming. Review here
viewtopic.php?f=53&t=11940&p=99890#p99890
It was another great day!