I actually feel bad writing about a lovely vacation when there is so much sadness and hurt in the Boston area. Our thoughts and prayers are with them all!
I also want to thank you all so much for reading along. It is good to know people actually like to read what you've written! The MB family here on the board is the best anyone could ask for!
Tuesday was another glorious day and we did our outside chores at this point. Everything was in full bloom in Carolina and so beautiful. In NY we had left small piles of dirty snow so seeing everything so green and lush was amazing. Our Azaleas and Wisteria were at their peak. Now, I have a "thing" for Wisteria. I feel it is the prettiest most romantic southern flower their is. It evokes memories of the old south for me and the perfume it gives off is staggering. I stood sniffing the bush in our front yard for long periods of time until Paul told me to knock it off as people were slowing down their cars to stare at me and he even believed some had taken photos...Whatever! It was so worth it
.
A new snake again appeared in our shed; in the rafters, but was gone by the afternoon when we checked back. It didn't appear again for the duration of the trip so that's always a good thing!
Azaleas in our yard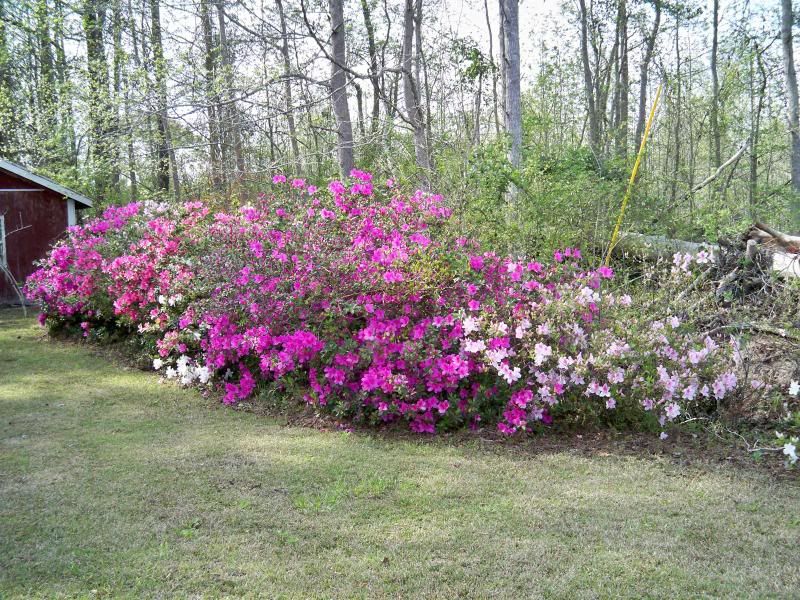 Wisteria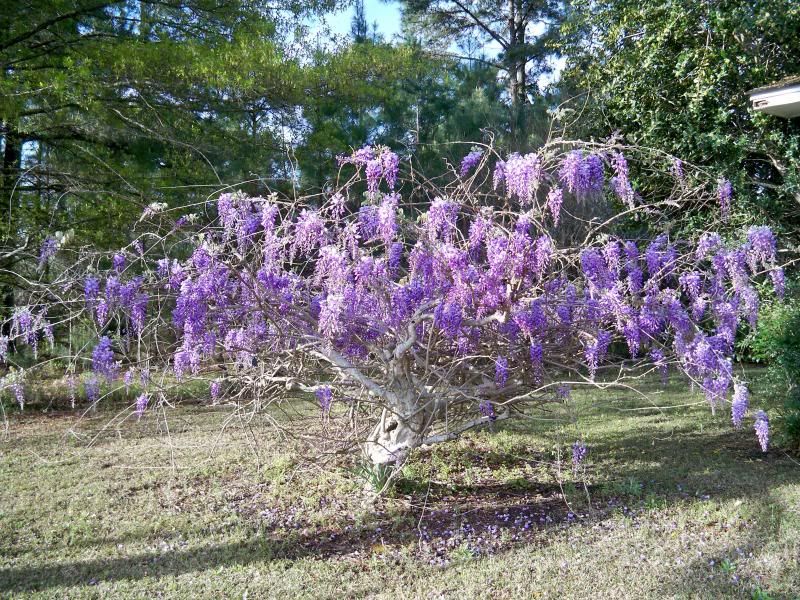 We headed to the beach again after all was done and it was so warm and sunny
. The beach was in full swing too. Many people were sunbathing/relaxing as well as parasailing, riding the banana boat , and the Sea Screamer. Oh yeah by the way, I want the dudes job that sits listening to Bob Marley on the beach and signs people up for these excursions. His stress level appeared to be about zero. How hard can it be to sit by the ocean, hang with people drinking out of "red Solo cups", and listen to reggae?? Yup that is what I am aspiring to be when we move down
The sharks teeth were in abundance because low tide was early in the day and the beaches don't seem to be cleaned on a regular basis this time of year. I will post a pic later in the report of our found treasures.
After a full day of sun we headed home for dinner.
There is a new Pizza Buffet in NMB called Sir Pizza. I think familys will enjoy this place for its price and value. Review here
viewtopic.php?f=52&t=14262
After dinner we headed to WalMart which as we all know is an adventure in its self. We needed a few extras so it worked out well. We are fans of the TV show Hell's Kitchen and Tues. night it's on so we headed home early to catch our weekly episode. It was a good day!
Wednesday again was an outside chore day. Now, we do have someone maintain our grounds but there are so many little extras that need to be done. So after again weeding, raking, and mucking (our gully on the side of the house wasn't flowing
we were done.
Here is our backfield in the morning mist. Can you smell that Carolina smell?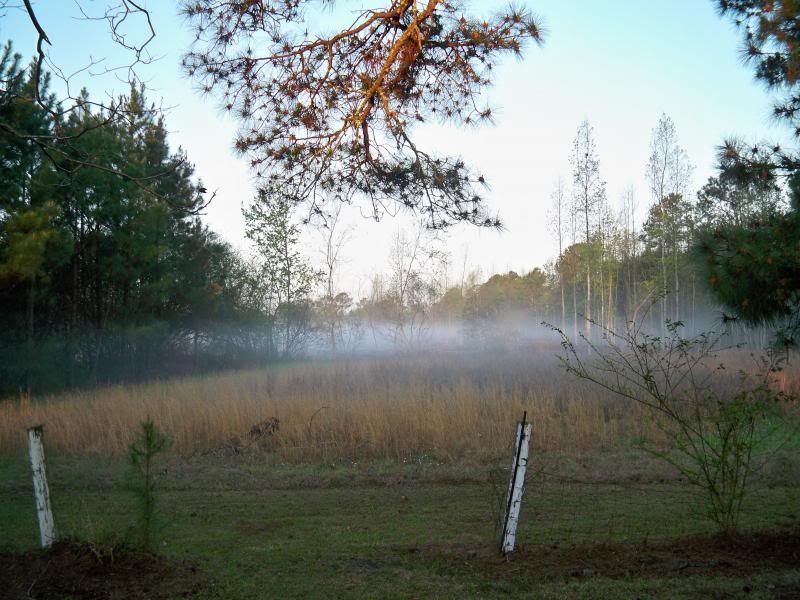 We knew we would be eating at Giant Crab buffet that evening so we decided to get breakfast out as we would be skipping lunch. We went to the Shack in Cherry Grove. Review here
viewtopic.php?f=48&t=14263
The beach again beckoned and we obeyed. The sun was stronger than we had realized and we were both sporting a bit of a Lobsterish hue. We again slathered 30SPF on our northern sun deprived bodies and laid back. We walked by my future employment area of the beach again and if possible the dude was even more relaxed looking than the day before. Yeah buddy come spend a day in the Big Apple and we'll see how laid back you are. Sorry, I deviated for a minute there into a jealous rant
We were midweek of our vacation so we were really getting a good dose of vitamin D and all was well.
Dinner that night was Giant Crab. Again we always eat here and never have any complaints. The food was hot, crab legs plentiful. After dinner we decided to metal detect the beach. Yes folks, Paul owns a metal detector. My guitar playing, Harley riding, Woodstock loving husband is a metal detector waving geek!! It was a lot of fun and you actually meet and talk to a lot of different people while wielding one of these gadgets. We didn't find much just two quarters but it was beautiful night on the ocean and we had tons of fun and made some great memories!