I am back and it is now Friday the 17th of Aug. and it is our last day in our beloved beach town. This is a sad day. A day of smiles that don't quite reach the eyes. A day of humming a happy tune only to find out it's actually the 80's hit "Manic Monday." Ahhh heck you get the picture; we didn't want to leave.
So, what always makes us feel better? The beach by golly. So we packed the Dodge and headed off to another really nice day of "beaching it." I am enclosing a picture of some of the sharks teeth we found THIS trip. No, this isn't like 6 years worth. We found every single one of these this trips. So yes folks, they do exist, and yes there are sharks in them there waters
After another wonderful day doing what we do best; nothing, we knew it was time to head back to the house and start the packing ritual. Not fun and utterly distasteful. We tidied up the house threw in all the rest of the laundry. Paul and Sy took all the chairs, umbrellas, and beach paraphernalia we had been riding around with in the back of our car for the last week and hosed it all off and tucked it safely in our utility shed to be used hopefully again in Oct.
Dinner we wanted to be a bit special. So we all decided steaks at the Boundary House in Calabash was in order. It was fantastic!! We had gone last year and the acoustics were so loud it actually detracted from our meal. This time however we went at 5:00 and it wasn't full so the meal was really nice. Review and pic here
viewtopic.php?f=46&t=6570&p=93054#p93054
After dinner we walked around Callahan's again and just took our time looking at all the different rooms. Such a great way to end the trip.
I wanted to go back to the ocean one last time to say "We'll see you soon" but Paul blatantly refused to take me. He said I always become hysterical when I go the the ocean on the last night. He didn't want me crying the rest of the evening because then I would get a headache and whine and he wanted a pleasant ride home. (Yeah, good luck with that.) Sooooo, no ocean for me. We headed home and loaded the car and tried to sleep a couple of hours.
We left by 3:00 am and it was a very long though uneventful ride home. While heading down I95, (please don't ask me where as the states become a blurr 20 minutes on that Interstate) we saw this...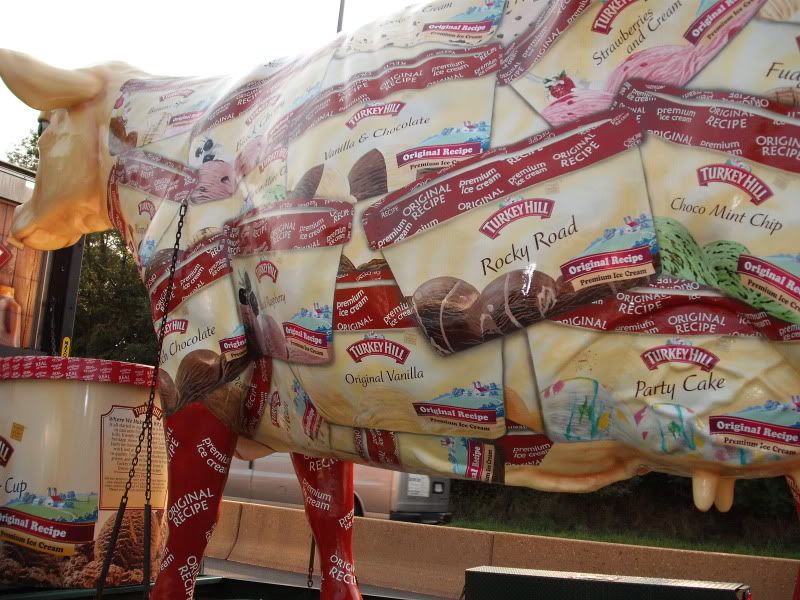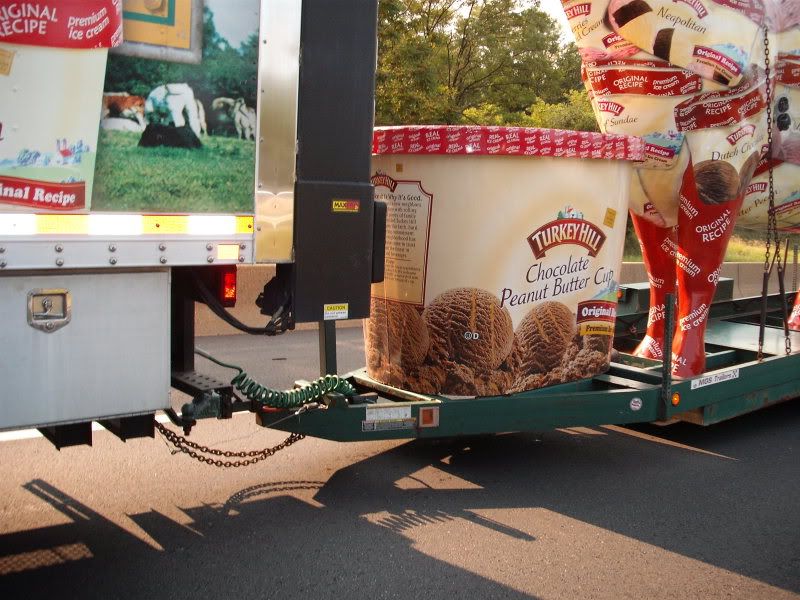 A giant Turkey Hill Ice Cream Cow being pulled!! It was the greatest looking icon!! It made the trip a bit more pleasant and upbeat
.
We arrived home after about 13 1/2 hours and it was a blessing! Thank you all for following us along on our vacation. We can't wait to head back and a big hug to you all for listening to my ramblings