Thanks all for continuing to read and for your kind comments!! Going to try to finish this up tonight...
Tuesday, August 14th
Another beautiful day at the beach. More pool and beach time! Today was the day Ripley's Aquarium folks came to Ocean Creek as part of the kids program. Let me tell you, what a nice program this is. They were there for over an hour and the kids loved it. They cast this large net out into the ocean, catch whatever they catch, put them in buckets and then teach the kids about them. They have laminated sheets so the kids can guess what they're seeing. I don't remember everything they caught, but there was a bunch of fish, including pinfish. And a large crab. They did this several times. The kids loved carrying the fish back to the ocean.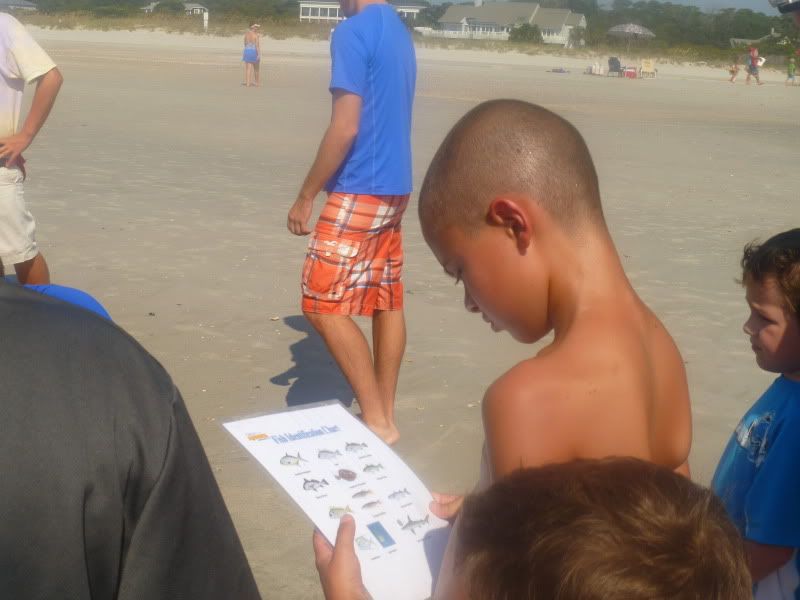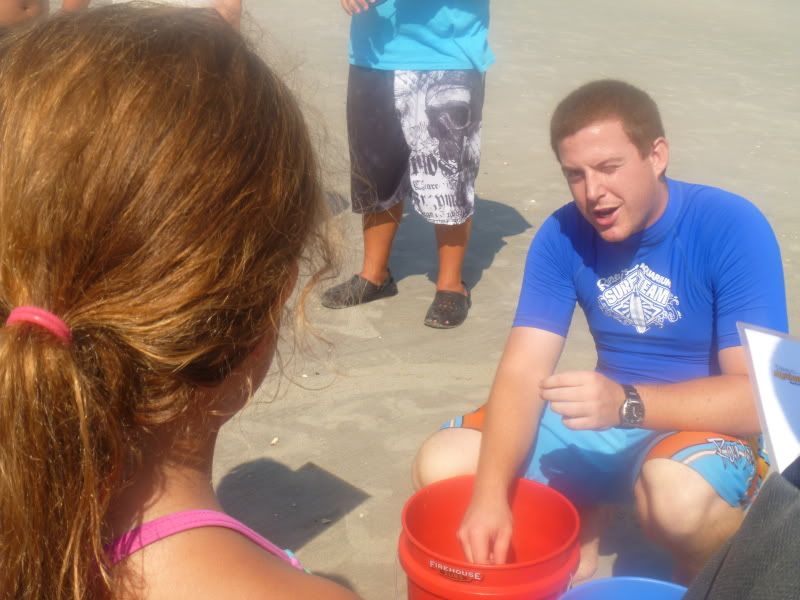 Jessi also got her hair wrapped today by Rob (it's still in) and painted a heart shaped mirror.
The days are running together, but I'm pretty sure it was the previous night, driving home from BATB that Josh saw something that interested him. By Bass Pro Shops, there is a sign for the mall and the electronic sign said something about a model train display. He was excited about this, he's super into his Lionel and is planning on working on a big setup in our basement this fall and winter. So I believe on Tuesday, Dave took him over to the mall to see it. Unfortunately, it's only open on Saturdays and Mondays I think it was, so we missed it :(
This evening we went Mini Golf before dinner (most coupons are good until 6). Gave the kids their choice of place and they selected one we've been to before - Professor Hacker's Lost Treasure Golf, in NMB. They enjoy the "train" ride to the top. Dave won, but I was just behind ;)
Dinner tonight was Josh's choice- Wild Wings Cafe. See my short review here:
http://www.funbeaches.com/forum/viewtopic.php?f=89&t=13709
This picture cracks us up. Josh looks like he's viciously devouring a wing, when in fact he's just trying to eat one and stop me from taking his picture at the same time!
After dinner, Jessi got a caricature. She's been wanting one for ages, we see them all the time at Cedar Point, and this was the night. Josh was going to do it too, but then decided not to. He went back to the Tractor store with DH. We also got ice cream again - kids and I at Maggie Moo's and Dave got Kohr's.
Next day, coming right up!