Saturday, August 11th
We took our time in the morning, got showers and enjoyed the breakfast. We were on our way a little before 10 I think. We ended up just taking 501 into the beach because it was early and traffic wasn't bad. Even though we were staying up near 22, we weren't headed there first and wanted to see the
ocean
and the main part of the beach.
Drove around a bit seeing what was new, etc. and then headed to Broadway at the Beach. Walked around a bit. Josh was very disappointed to see the John Deere store was gone. We don't have JD's, but any tractor place is better than none. This was easily remedied the very next day at BL :)
Since we couldn't get into the condo until noon, and we knew we'd be in MB by lunch (even if we had stayed in Rockingham), we decided we'd do a big lunch instead of our usual dinner out, then go grocery shopping and then just have dinner in the room. That way once we were in, we could stay in for the day/night and the kids could have beach time. We decided on Margaritaville -see my review here:
http://www.funbeaches.com/forum/viewtopic.php?f=55&t=13590
We then went to Wal-Mart by the outlet mall and stocked up for the week. This all went quicker than expected. We were done by 2, so we figured we'd just head to
Ocean
Creek
and see if the unit was cleaned. This was our first time renting from an owner, so we weren't quite sure what to expect. We stayed at OC in 2009, though, so we knew just where to go and we were feeling good driving back in through the "plantation" off the main road. I like the feeling that the security gate and the drive back give...stepping out of the real world in a way.
Went up to the room (11th floor of the North Tower). Open the door and the unit is definitely not cleaned. Quite a mess actually. Yikes. Ok, so we go down and walk outside a little on the decks, sit in the lobby a bit. No one had sunscreen on yet, so we didn't want to be outside too long. Right at 3 PM, we headed back up. I had a feeling that it wouldn't be ready yet...and it wasn't. The cleaning "crew" - a very nice Latino lady and her family, explained that the previous renters had not checked out on time, so when they came earlier they couldn't clean, had to leave to do others and then come back. She said it would be about 40 minutes. This is not a big deal, but the kids were very anxious to get on the beach. They said we could come in and change, but we opted to just wait. I did decide to place a call to the owner just to let her know what was going on and just IN CASE we had any other problems with the unit. Again, this being our first time renting direct, I was a little nervous and just wanted to cover our bases. I can happily say we had NO other problems, we were thrilled with the unit and would highly recommend it to anyone. We will likely stay there again. If anyone is interested in staying at OC, and wants the VRBO information, let me know.
It was about 4 when we finally get into the room. Checked it all out...VERY nice. Not the most up to date (though some things were), but VERY clean and with lots of good amenities and extras. The 2 BR Layout is perfect for our family.
We unloaded all the luggage, and as we were, the kids went on the balcony. What was coming in, but a storm of course! Oh jeez!! Knew it wouldn't last long, but the kids just wanted ON the beach, LOL!! We worked on unpacking at as soon as it passed, Dave took the kids out while I finished unpacking.
I should mention that in all this up and down on the elevator (trying to get in the room), we saw couple who mentioned how the elevators had been breaking down a lot. They saw the look of horror on my face and assured me it would be fine, just press the button, etc. But i HATE elevators to begin with and did not want that. So....from that point on, I did the stairs. All 11 floors (or 12 if we came from the parking garage) every time all week. I refused to use the elevators (which of course never broke down when Dave was on there). I took it as a good opportunity to get some exercise! Jessi actually did them with me most of the time. I did them at least 3x/day, she would do 2 usually. Just thought I'd mention that tidbit ;)
I headed down to the beach after unpacking to find the kids trying to catch little fish at the shore line. Still very overcast, so it made for some good photography lighting. Just sharing a few: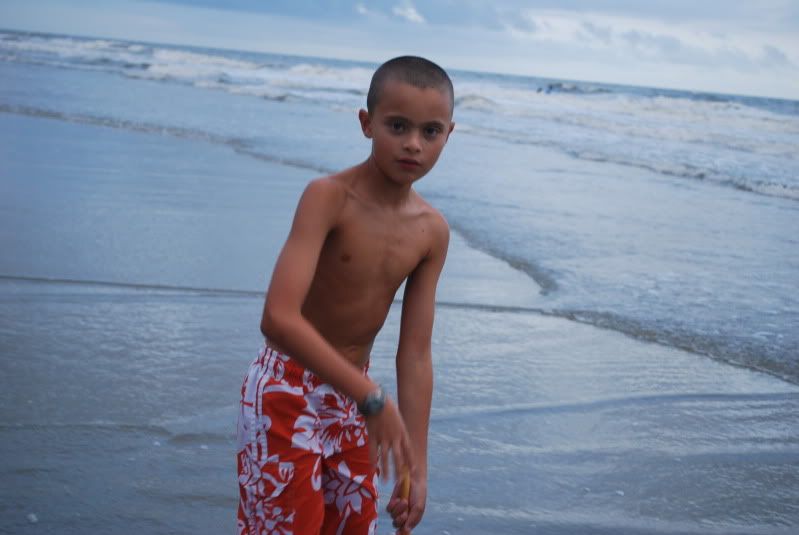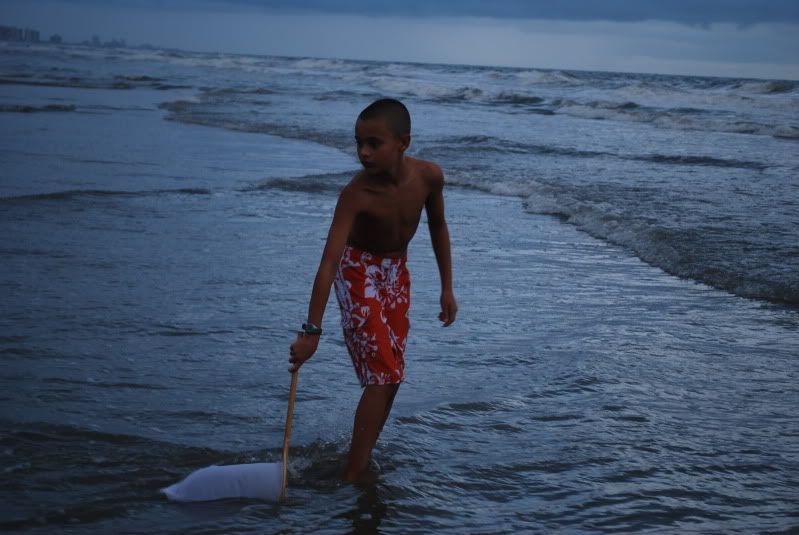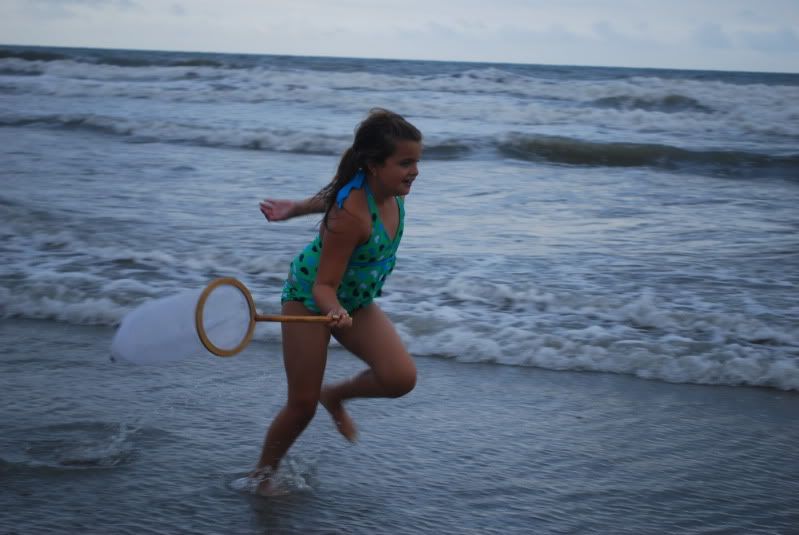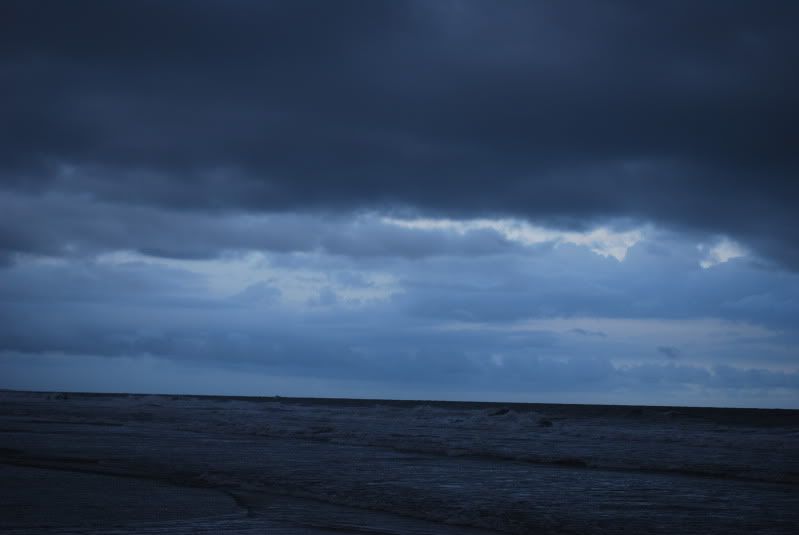 It started raining again, so we decided to head back up for some dinner and relaxation. Saw a bride coming onto the beach for a wedding ceremony. I felt bad for them that it had started raining again
We headed back up to the condo. Dave and I had leftover nachos (for dinner tonight AND lunch the next day - those nachos were 5 total meals!), kids had PB&J. We watched some TV, read, called home, etc. Kids had a TV and DVD player in their bedroom, so they watched a movie. We discovered that the main TV had DVR which was great. We use ours religiously at home and it was so great to be able to record some things (like our guilty summer pleasure- Big Brother) and then watch them whenever we came in for the night.
I'll be back later or tomorrow with some more updates, but here's a few condo pictures: