Since we were staying farther south for a few days we decided to eat somewhere at Market Commons for dinner. We had a great experience at Gordon Biersch last fall so that was our pick.
There were 9 of us seated immediately at 5:30. Wow! Wasn't expecting that on July 4th, especially with all the activities at Market Commons. Kinda made me nervous about the meal.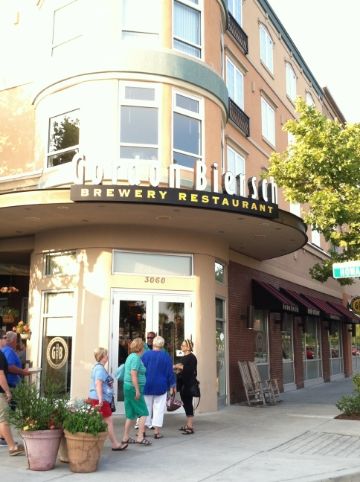 Several of us started off with a salad
Sorry the pic is a little blurry. The salad was really good. Fresh, crisp and loaded with goodies. I would go back just for the salad.
My mom and I split the filet medallions and fried shrimp
Portions were split in the kitchen which I personally think is classy of the restaurant. My medallion was excellent and the garlic mashed potato's were very tasty.
Doug of course had a steak.
This go around he had the New York Strip. Last fall he had the Ribeye and he commented that it was much better. I would say he was a little disappointed with his meal. However, he would go back.
My friend got chicken & shrimp
She said it was delish
My cousin got pizza
She loved it!
Once again another great meal at Gordon Biersch. We will return.