I am being totally honest here. I am not rating this restaurant on TripAdvisor...EVER! Why you ask? Because I seriously don't want anyone knowing how fantastic the food was. They are already getting quite a following and I really don't want to share this perfect gem. BUT because I love the MBMB2 and the people on it. I will divulge this little secret.
It's small and has maybe 10 tables. We went at 6:30 on a Saturday night and had to wait about 20 minutes. It's in a strip mall on Highway 9 in Longs. The kitchen had a glass window so you could watch the chef and the sous chefs hard at work. They had specials that where if you bought one you got one 1/2 off. Great deal! The meals came with a tossed green salad and warm bread with dipping oil and herbs.
Sy and I both got parmesan crusted pork chops with garlic mashed potatoes. The pictures are dark and doesn't do the food one iota of justice. The pork was fork tender and nicely crisped. The demi-glace was heavenly and reminiscent of a Marsala. Really really good!
Paul had Blackened rib eye tips and shrimp over risotto. The risotto was creamy and light. He just kept raving and raving. Again the picture is dark and doesn't represent completely.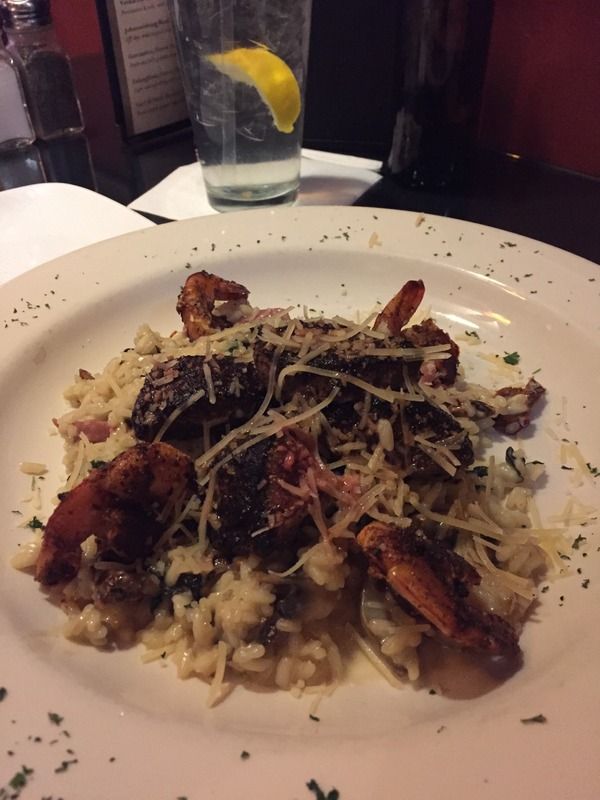 We were too stuffed for dessert but the tiramisu and other goodies that were leaving the kitchen looked mouth watering.
We gave this little eatery a 5 out of 5 it was that good. We were sorry we ate here our last night because I guarantee we would have dined here several times.
Here they are on Facebook
https://www.facebook.com/parkwaybistro