---
Villa Romana - 707 S Kings Hwy, Myrtle Beach, SC 29577 - http://www.villaromanamyrtlebeach.com/

It's never a trip to Myrtle Beach without a visit to Villa Romana. The service is always top notch. You're never rushed. The courses are paced perfectly. The food is excellent. We've never had a bad meal or dish here. The owner always takes time to come to our table, tell us about the food and thank us for coming. The staff and the owners truly care that you're dining with them. The accordion player is hilarious and can play anything you ask him to. He'll go from table to table taking, telling jokes, and playing songs.

On this particular trip, we dined here twice. You're given four courses before your main entree arrives: tomato bruschetta (excellent), rolls and sauce (divine!), Stracciatella soup (yummy), and a fresh side salad. On our first trip, my dad ordered the Lobster Ravioli and Cold Water Sea Scallops (lobster stuff ravioli adorned with seafood a la vodka sauce with jumbo lump crab and scallops) with a side of spaghetti. My mom ordered the Filet Mignon with mushrooms and sauce, fries, and side spaghetti. I ordered the Chicken Ripieno (breaded chicken breast stuffed with ham and cheese, flamed in white wine) with a side of spaghetti. On our second trip, I ordered the Fettuccine Alfredo with chicken. My dad ordered the Veal Caesar (twin breaded veal cutlets topped with asparagus in a white Absolute Vodka cream sauce and jumbo lump crab meat) with a side of fries, and my mom ordered the Filet Mignon with mushrooms and sauce, fries, and side spaghetti. Every single meal was perfect. The meats were cooked to our liking, the vegetables were fresh and the sauces weren't too heavy. The food is consistently great. We had no complaints.

Ask for Tim as your server! He is excellent and always takes care of us.



Tomato Bruschetta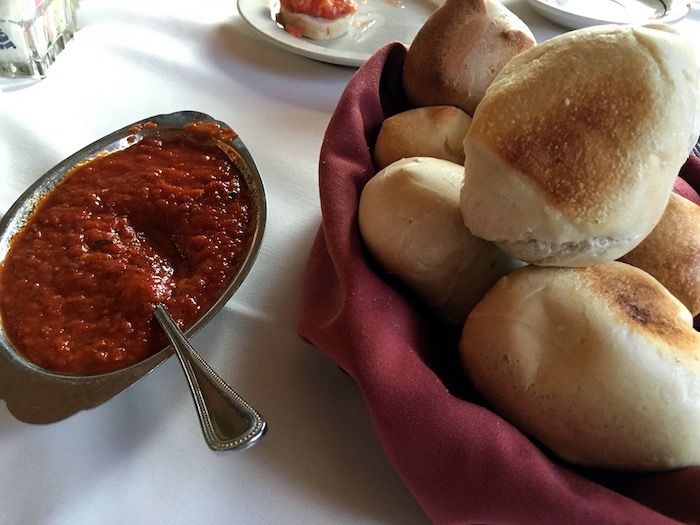 Rolls and sauce



Stracciatella soup



Side salad



Lobster Ravioli and Cold Water Sea Scallops



Filet Mignon with mushrooms and sauce, fries, and side spaghetti



Chicken Ripieno



Side spaghetti



Veal Caesar with fries and spaghetti



Filet Mignon with mushrooms and sauce, fries, and side spaghetti



Fettuccine Alfredo with chicken