There were 8 of us that arrived on July 4th at Johnny D's around 9:15 A.M.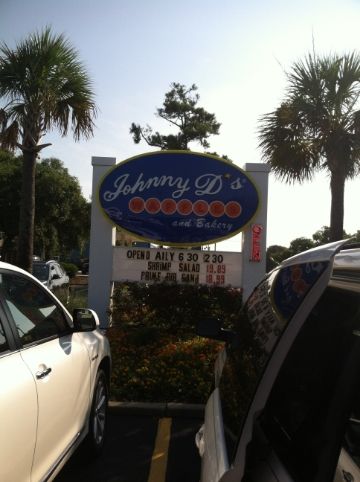 We had to wait around 15 minutes for our table. It was very crowded, but that is to be expected on the 4th.
I decided to try the Pound Cake French Toast
Oh my, was I doing the happy dance. It was delish! I am not kidding if you are a sweet eater you MUST try this. Yes, I will be going back for more of this sweet delight.
My mom and cousin got the Stuffed French Toast
My mom and cousin both thought this was very good. I am not a huge fruit eater (I know go ahead and ask, how can I not be a fruit eater?) so this was just ok for me.
All the guys got the Johnny D's Grand Slam
They all just seemed as happy as can be with their breakfast.
Will we return....YES. If you are a breakfast lover like me Johnny D's is a great place. Don't miss it!