We arrived at Croissants around 10:00 A.M. on a Saturday morning for brunch. It was very crowed and we had about a 30 minute wait. We should have gotten there earlier because I hate to stand in line on vacation. We certainly will be keeping that in mind next time.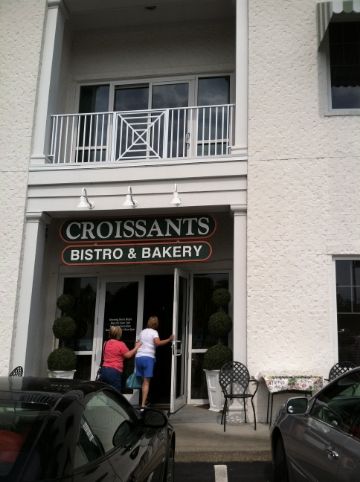 We started out with the little complimentary muffins that are so tasty. I love the melted sugar crystals on top. Yummy!
My mom got the Eggs Benedict and I got the Banana Foster French Toast. Both were fabulous!! When eating breakfast I always like to start out with something not so sweet before I dive into my sweet meal. So my mom and I shared. The Eggs Benedict may have been the best I have ever had. It was served with hashbrown casserole which was wonderful. This Egg Benedict was so good and highly recommended. My Banana Foster French Toast was once again very tasty. Not too much alcohol, just perfect.
My cousin got the bacon & cheese croissant. I had a bite and it was as good as it looked.
Croissants Bistro & Bakery is one of my favorite breakfast places in Myrtle Beach. I LOVE IT! The only drawback is the wait time and it did take a while for our meal. I do believe they offer reservations.