We decided to try Filets based to Christine's & Emmy's reviews and we are so glad that we did. It was one of our best meals. I had never heard of Filets until Christine posted. Hidden jewell in my opinion. Let me start off by saying the restaurant is over 25 years old. When we first pulled up I wasn't very impressed and immediately start telling myself this isn't going to be very good. The inside needed major renovations and I felt like I was in an old nightclub. However, if we can tolerate Crab Catchers we could do this.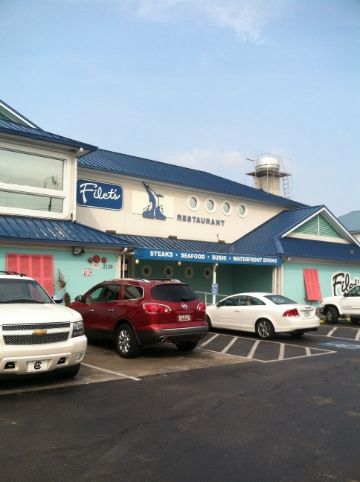 Beautiful view of the waterway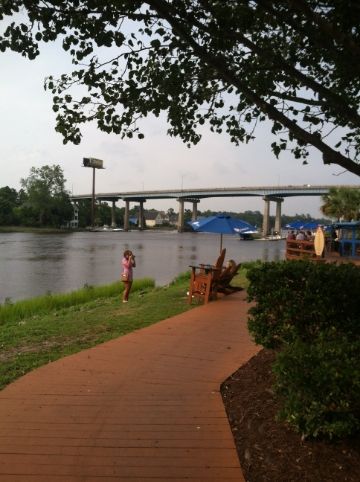 View of Harbourgate Marina from our table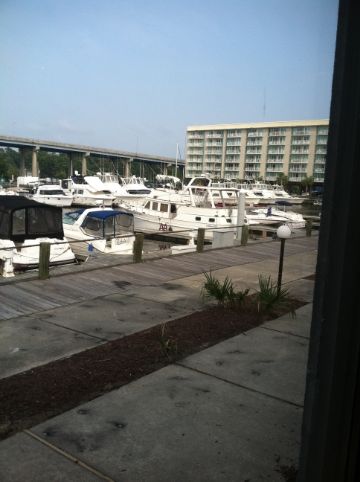 View of covered deck seating from our table. They had large fans in this area so I would think it would be comfortable for evening meals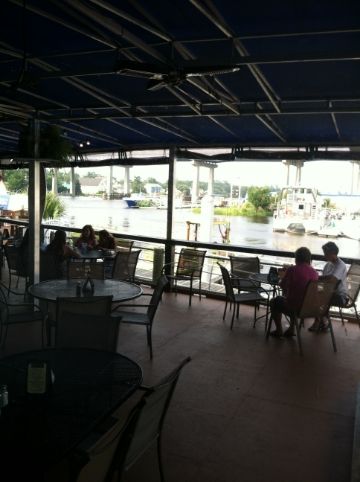 Most of us started out with a salad and it was average. However, I had the house dressing which was a creamy pecan and it was excellent. The greens in my salad look much different than Emmy's ??
The bread was homemade and a little dry
My sister in law got the Lobster Bisque and it was the best she had ever had. I took a bite and it was very good.
My cousin ordered the Hawaiian Pork. You didn't even have to chew the meat. It was that tender. Very good.
Doug got a New York Strip. He ordered his steak medium and when he received it it was over cooked for him. He didn't send it back, but he did comment that it was seasoned very well. Notice the roasted corn. If you don't like foods with a spicey kick do not order this. Whew...it was smokin. However, Doug ate it
Now for some reason I could not download the two best meals at our table. My brother ordered the filet and I kid you not he cut it with a butter knife. It was excellent! Doug was kicking himself for not ordering it.
My mom and I shared the pecan crusted chicken. Oh my it was so good. The portion was huge and it looked like fried chicken with honey drizzled on top. I have thought many times about this meal since we have been home. Sorry about the pic.
We will return to Filets. As mentioned my mom and I did share a meal and this is the only meal ever in Myrtle Beach that we have been charged for sharing a meal. It was like $6. I did express my concern to the waitress and she did pass it on to the manager because he stopped by our table. The charge was not reversed, but I did let him know that we had been sharing meals for years and this was the only place to ever charge us.