Joe's Bar & Grill
- 810 Conway St, North Myrtle Beach, SC 29582 -
http://joesbarandgrillonline.com/
My parents and I ate here twice during our trip to Myrtle Beach. It was my first time dining here. My parents have been here several times and it's one of their favorite restaurants in MB.
The restaurant was packed when we arrived. Ashley came over to take our drink menu and give us the complimentary crackers, butter, and cheese spread. When she returned with our drinks, she gave us piping hot bread. The bread was delicious and soft. I ordered the Chicken Oscar (chicken breast dredged in Oriental bread crumbs, sauteed and topped with crabmeat, asparagus and Hollandaise sauce) with rice and green beans. I also ordered a side house salad with bleu cheese dressing. The salad was fresh and the bleu cheese dressing was very yummy. My meal was perfect. The breading on the chicken was very light and the chicken was very juicy. The green beans were amazing. They're mixed in with tomatoes. I think that's the first time I ever ate my green beans BEFORE anything else on my plate. My mother ordered the Scallops Meuniere (sea scallops sauteed in lemon butter and seasonings) with green beans and rice. The scallops were cooked perfectly and very big. My dad ordered the Filet Neptune (tenderloin medallions topped with crabmeat, shrimp, and scallops topped with Bearnaise sauce) with green beans and potatoes. His steak was cooked perfectly and the seasoning on the potatoes was fantastic. Overall it was an excellent meal. We practically licked our plates clean. We also got desserts to go and those were delicious as well.
The only complaint I have is that the tables are too close together. If there are tables on either side of yours, you feel like everyone can hear your conversation. There was a couple to the left of us on a date and I kind of felt like we were intruding on their conversation because we were so close.
Ask for Ashley as your server! She's so polite and attentive. The service and food were excellent. We will return!
Complimentary crackers, butter, and cheese
Side salad with bleu cheese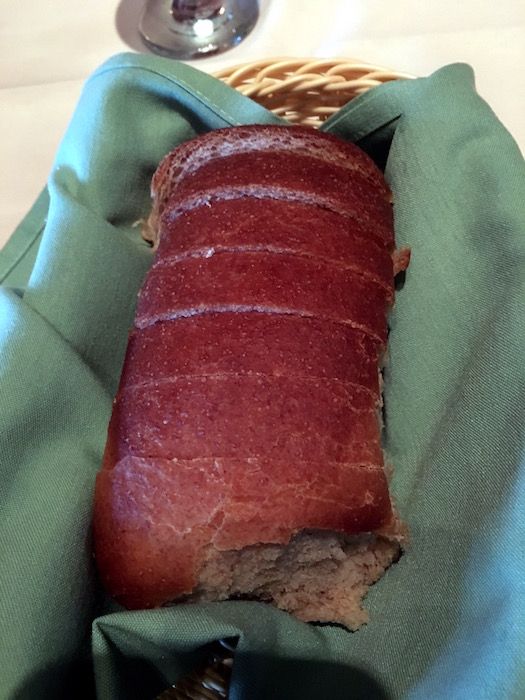 Bread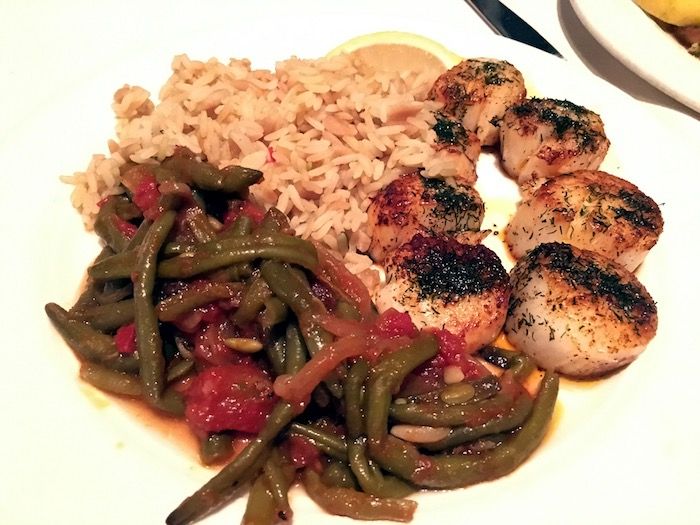 Scallops Meuniere with green beans and rice
Filet Neptune with green beans and potatoes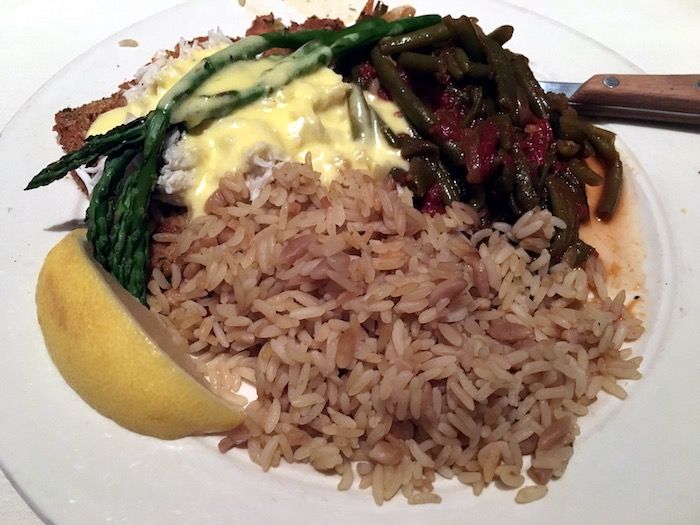 Chicken Oscar with rice and green beans