I posted this on accident in the Flying Fish post instead!
Mr Fish - 6401 N Kings Hwy, Myrtle Beach, SC 29577 -
http://mrfish.com/
My parents and I arrived at Mr. Fish around 5:30pm. The parking lot was crowded, but we weren't worried since there are plenty of seats inside. We were seated towards the back of the restaurant immediately. Our server Lisa came over to greet us and take our drink orders. She was cheerful and attentive throughout our meal.
The complimentary hush puppies came to our table shortly after. They were cooked perfectly and steaming hot. We got little pods of honey spread to dip them in. I ordered the Crab Rangoons for an appetizer, which were six crab and cream cheese stuffed wontons served with Lisa sauce. The rangoons were so good. They weren't greasy and they had a wonderful taste. The dipping sauce was awesome. For my entree, I ordered the Seafood Alfredo, which is shrimp, crab meat, and scallops sautéed with penne pasta and Alfredo sauce topped with parsley and parmesan cheese served with toasted garlic bread. My meal also came with a side caesar salad. The caesar salad was a decent size. The pasta portion was huge and very rich. I was full from the wontons, hush puppies, and caesar salad, so I only took a few bites of my pasta. No worries, as it made an excellent lunch the next day! The crab meat was shredded throughout. The scallops were cooked perfectly. The shrimp were a nice size and were plentiful throughout. My mom ordered the Tilapia platter (two pieces of tilapia) with two sides (potatoes from the special-of-the-day menu and cucumber salad.) She loved her fish. The potatoes were delicious and she loved her cucumber salad. My dad ordered his usual: Fried Sea Scallops platter. You get 5-6 for the platter but they are huge and worth the price. The scallops were cooked to perfection and the friend batter was crisp and thin. His side items were potatoes and broccoli, both of which he enjoyed.
You will not leave hungry at Mr. Fish. Be prepared to have leftovers for the next day! The service was great and the food was excellent, which is why we come back year after year.
Hushpuppies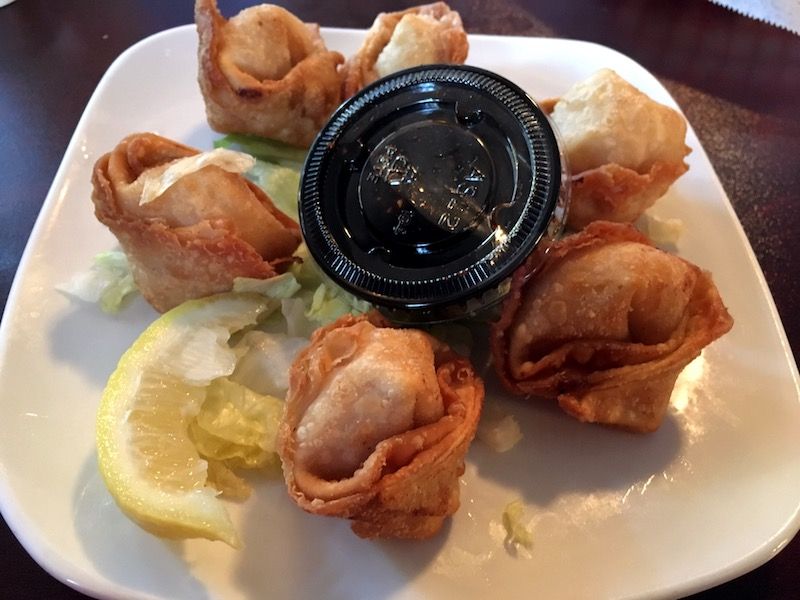 Crab Rangoons appetizer
Side caesar salad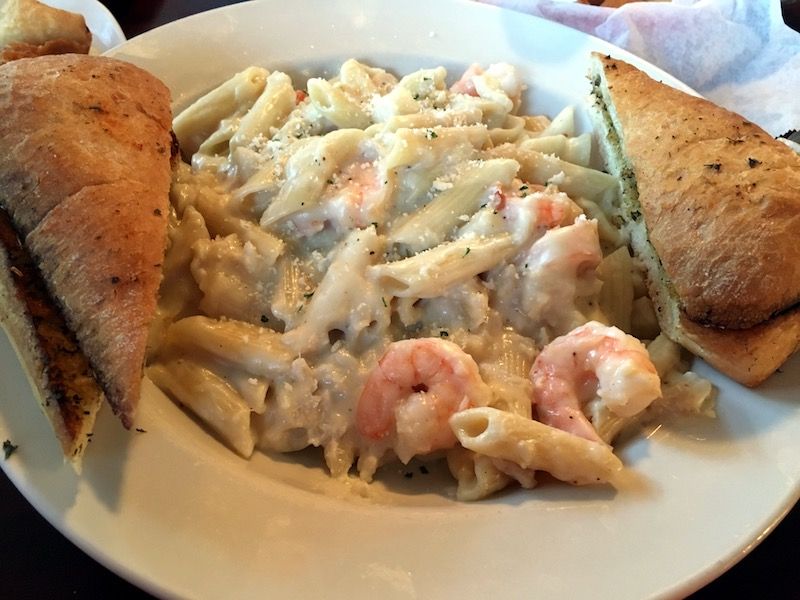 Seafood Alfredo (shrimp, crab meat, scallops) with penne pasta and alfredo and garlic bread
Tilapia platter with potatoes from the special-of-the-day menu and cucumber salad