We had dinner at Capt. Juel's Tues. June 17th! We were looking for a good fresh fried seafood platter and decided to give this place a try! We are so happy we did! The outside looks deceiving but the inside and deck area were great! We chose to eat outside and enjoy the weather and the view!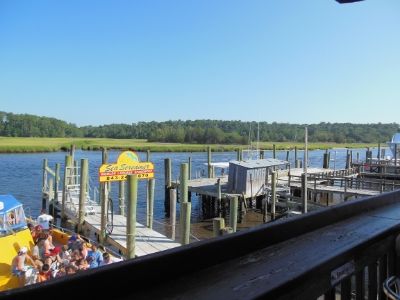 Paul and I both had the fried shrimp/scallop baskets.
The meal started with the BEST hush puppies. Piping hot and slightly sweet (not oniony) with honey spread! SO GOOD! The basket also came with coleslaw or a salad. Paul had the coleslaw I the salad. This salad had some substance with croutons, carrots, cucumbers etc. Cold and crisp!
Our platter arrived with hand cut fries and everything again was hot and fresh! It was again a huge portion and half mine came home with me.
We would definitely return here again! We did have a coupon so the price for the both of us and one beer each was $46.00!
http://www.captjuelshurricane.com/