We arrived to Flying Fish a little after 5pm. I was bracing myself for a wait but there wasn't any.
We were seated upstairs. The upstairs room was pretty full - we took the last table available. We were seated right by the server station. It wasn't the most ideal spot because we felt like we were in the way. It was a bit cramped and got pretty hectic when the servers were trying to put in their orders. Our server was friendly and welcoming. As soon as the complimentary mahi mahi dip hit the table, I dug in! My parents aren't too fond of it. Oh well - more for me!
I had a couple of bites and decided to save the rest for lunch the next day. We ordered a hush puppies appetizer. They came out cooked to perfection, steaming hot and crispy. For our entrees, my parents chose the "Build Your Own Boil" - 1 1/4 pound snow crab (2 clusters), red skinned potatoes, yellow corn, pecan smoked sausage, all topped with Old Bay. I opted for the Classic Chicken Sandwich, which was grilled chicken breast, BBQ sauce, Applewood bacon, cheddar cheese, fried onions, lettuce, tomato, with fries, coleslaw and a pickle. Our food was great, as always! We've never had a bad meal here, or bad service. This restaurant stayed crowded consistently and it's easy to see why!
Mahi Mahi dip
Hush Puppies appetizer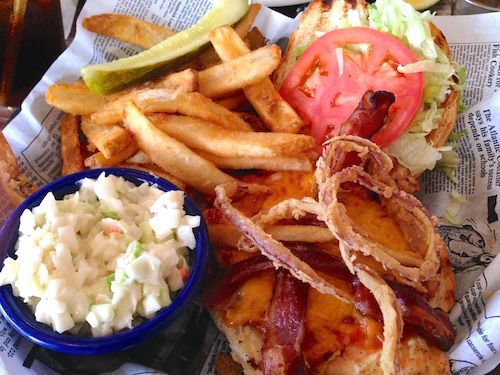 Classic Chicken Sandwich (grilled chicken breast, BBQ sauce, Applewood bacon, cheddar cheese, fried onions, lettuce, tomato, with fries, coleslaw and a pickle)
"Build Your Own Boil" (1 1/4 pound snow crab (2 clusters), red skinned potatoes, yellow corn, pecan smoked sausage, topped with Old Bay)