We chose to stay at the Sands Beach Club on Shore Drive this year because we wanted to try a new place/ area, we wanted fewer pools (thus fewer kids), and perhaps a quieter area with a larger beachfront. We got all three of those with the Sands Beach Club.
The resort is at the very end of Shore Drive, and there isn't an office. You check in at her sister resort… the Sands Ocean Club. All of the rooms are either 1 bedroom suites or 2 bedroom suites. All units are privately owned, so some are much nicer than others.
The oceanfront tower is about 12-14 stories tall and faces directly on the ocean. We stayed in the smaller building (only 5 stories tall) which faced the marsh. We had a beautiful view!
Two pools. One is at the back of the larger tower and is both indoor and outdoor. The other pool is exclusively beside the marshview building. Both pools are small, and the only hottub is indoors. There is a restaurant/ bar near the indoor pool, but we never went in there.
Our one bedroom suite had a "den" with a fullsize bunkbed, living room, kitchen, master bedroom, and 2 bathrooms. Our room (112) was on the corner and on the first floor. It was older and in need of some repair, but otherwise was perfect for us.
The BEST part of this hotel is the location. Again, being the end property on Shore Drive meant that the marsh was beside us, and the Dunes golf course across. Most of the crowds didn't come down to our area. And at low tide, this was the largest beach area I've seen on the Grand Strand.
The resort had a couple of "freebies" that we didn't know about, but did take advantage of. A free round of golf at Diamondback Golf Course, Free tickets to Wild Water and Wheels (which we never made it to), and access to their sister resorts and their amenities like Ocean Annies at the Ocean Club, and the waterpark at the Sand Dunes.
We enjoyed our stay… but we enjoy just about anywhere we stay. There were a few negatives (old appliances in bad shape/ only one washer & dryer on the entire floor/ no front desk staff), but I would recommend this resort for the price. Very affordable.
The view from our room.
Also from our room. Kayaker in the marsh at low tide.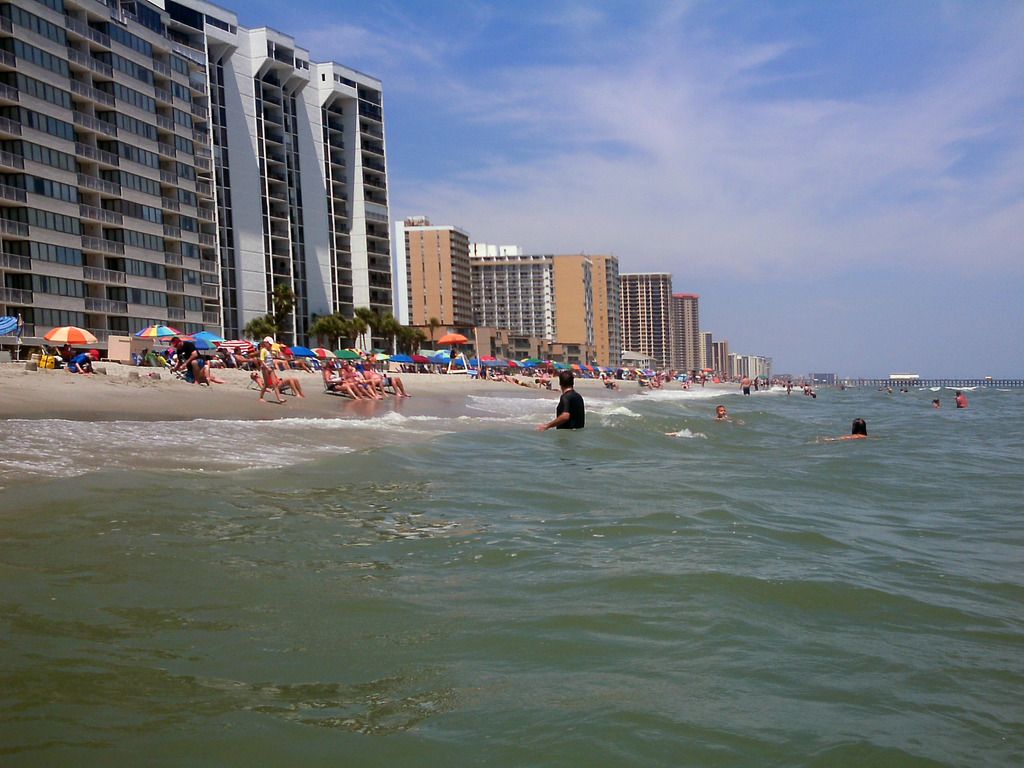 The only time it was crowded was at High Tide